This page contains events for the Nottinghamshire Birdwatchers as well as other events which may be of interest.
We now feature a number of walks organised by our Outdoors Events Organiser Samantha Haworth. These walks are open to all, as well as members of the Nottinghamshire Birdwatchers.
If there are any events such as slide shows, bird walks etc in Nottinghamshire, you would like to see on this page then please send details to: Rob Hoare


Nottinghamshire Birdwatchers In County Walks 2020
Butterflies at Cotgrave Woods - Sunday 12th July - Weather Permitting!
Meet at 9:30am at the right-hand bend on Lamming Gap Lane, where there is room for a small number of cars.
PLEASE NOTE this event is limited to a group of 12 to ensure we can comply with social distancing at all times, as parts of the route can be narrow.
We apologise for any disappointment this may cause to anyone unable to get a place on the walk, but we will be happy to provide any information needed that may help you to see some of Cotgrave's interesting butterfly species on your own.
We will be looking for Purple Emperors, White -letter Hairstreaks and Purple Hairstreaks, as well as other more common butterflies. There will also be a chance of farmland birds such as Yellowhammers and Linnets.
To book please email crestiesam@sky.com
There will be a £3 charge for non-members for all in county events.
Please register your interest by emailing Samantha Richardson if you plan on attending any of the above incounty walks.
Nottinghamshire Birdwatchers Indoor Meetings/Events 2020
Other Indoor Meetings of interest - 2020/21
Nottinghamshire Birdwatchers Trip to Scilly- September 29th to October 6th 2020
Yes, Notts Birdwatchers will return to the Isles of Scilly in 2020!
Join us for a week on the islands to try and see rare, scarce and common migrant birds. The Isles of Scilly boast a proven track record of attracting birds from all points of the compass. The islands are designated an Area of Outstanding Natural Beauty, so while we are searching for birds, we can admire the stunning scenery! It is impossible to say what birds we might see but regular scarcities include Richard's Pipit, Wryneck, Red-breasted Flycatcher, Rose-coloured Starling, Yellow-browed Warbler, Spotted Crake, Short-toed Lark, Red-throated Pipit, Little Bunting, Common Rosefinch and many other species. Anything is possible: last year produced Blue Rock Thrush, Yellow-billed Cuckoo, Rose-breasted Grosbeak, Red-eyed Vireos, Buff-breasted Sandpipers to name but a few. Always expect the unexpected. While there, we may even find a local MEGA such as Jay, Magpie, Green Woodpecker, Yellowhammer, Bullfinch, Long-tailed Tit or Treecreeper and cause a stampede among resident birders: Scilly is a weird place!
So what do you need to know? We will be staying at Wingletang Guesthouse in Hugh Town, St. Mary's, where we will be well looked after by Jacquie and David. The cost includes all accommodation on a B&B basis with 4 nights' evening meals - with single, twin and double rooms available - and an experienced guide. Not included are 3 evening meals (several pubs within easy walking distance of the digs), travel to the Isles of Scilly (you will have to purchase your own boat or plane travel to the islands plus get from your home to Cornwall to catch your chosen transport), snacks, drinks, insurance (highly recommended: travel delays are not uncommon!), inter-island boats (about £10 a time, should we choose to go off-island from St. Mary's), taxis around St. Mary's and other incidentals.
Price: £500 (plus all extras mentioned above. Expect this week to cost a total of £700 and £800 depending on travel choice, pub meal choice, number of boat trips to other islands etc).
General Info: You will need to be relatively fit. Transport around the islands is usually by Shanks's Pony (i.e.WALKING). Taxis are available on St. Mary's if needed (to get to a rare bird quickly) but otherwise be prepared to walk about five+ miles a day.
· There will almost certainly be a chance to join a Pelagic trip on the Sapphire looking for seabirds (usually about £35 a day), depending on weather and demand.
· Scilly allows for easy diversions and short cuts should you wish to leave the group to explore on your own (or return to the digs for a rest!).
· All tour participants MUST be members of NBW · A non-refundable deposit will be asked for when booking
· For this price to stand, I need all 10 places to be filled. If you book and then cancel, it will be up to you to find a replacement!
Itinerary: The itinerary on this trip will be very fluid. People can choose to do as they wish or can join the group for the day or part of the day. Neil will suggest an itinerary for the day, taking in the best birds, but participants can choose their own itinerary. Radio contact is maintained by all birders, so bird news is disseminated virtually instantaneously. If something 'good' turns up on the islands, we can decide if and when to go for it and how to get there. Plans are quite often thrown into the air, as new birds are discovered or target species have gone, so prepare to be very flexible with arrangements.
Summary: The Isles of Scilly is a stunning location and most visitors instantly fall in love with the place and its relaxed way of life. Many good birds are found annually but cannot be guaranteed, of course. We will try for as many 'good' birds as possible, so come with a list of your own target species and we will see what we can do for you! The islands are also known for rare and scarce plants, exotic insects and a host of archaeological sites.
For more details, any questions and bookings, please e-mail Neil Glenn on n.glenn@ntlworld.com Places have gone quickly in the past, so don't dilly-dally!
Archived Articles

---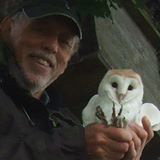 ---
Breeding Marsh Harrier and Bittern in Nottinghamshire 20
15

.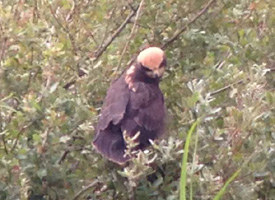 rh
Juvenile Marsh Harrier and Juvenile Bittern. ©Simon Roberts.
---
by Carl Cornish.
---
Breeding Little Egret Success 20
12
Nottinghamshire Wildlife Trust welcomes first breeding success in the county for Little Egrets.
Read the full press release here [PDF]