Welcome to the Website of the Nottinghamshire Birdwatchers
This page will be updated on a daily basis, to provide a convenient news service to scarce & rare birds found within the County Nottinghamshire.
The Sightings page and @Nottsbirders Twitter feed are intended to alert birders to scarcer species that they might be interested in seeing within the County.
Records of more common species are still very important, but should preferably be submitted to the county Recorder Keith Rainford Bullfinch194@gmail.com These records will then be added to the Nottinghamshire Birdwatchers data-base, to be included in the monthly Newsletter and Annual Reports.
None of these reports have been verified or checked by the Nottinghamshire Birdwatchers' Records Committee.
Please report your Latest Sightings to: nottsbirders@gmail.com or @NottsBirders on the Twitter feed.
Please remember to submit all sightings to Keith Rainford Bullfinch194@gmail.com each month, using the Excel spreadsheet that can be downloaded from the Recording page.
---
Archived Sightings 20
01

- 20

20

Archived Sightings 2001 to 2021

Archived Sightings 2022
---
Species shown in bold Purple on this page are BBRC rarities or species recorded on less than ten occasions in the county. Bold Blue are rare and scarce county birds recorded less than annually that require a description or supporting details for the society's archive. A full list of these species can be found on the Recording page. Red are species of interest. Bold Grey are unconfirmed sightings or a species of unknown origin.
---
The Birdwatchers Code of Conduct.
The interests of the bird comes first, please follow the Birdwatchers code of conduct
Sunday 2nd October
Lound [Idle Valley NR] - 4 Russian White-fronted Goose, 64 Pink-footed Geese, 2 Pectoral Sandpiper, 3 Green Sandpiper, 6 Ruff, [Neatholme Scrape], 2 Pintail, CATTLE EGRET, LITTLE STINT, 4 Curlew Sandpiper, 6 Dunlin, 6 Ringed Plover, Greenshank [Chainbridge Scrape West], c.400 Pink-footed Geese [heading west in 2 skeins, this morning], Whooper Swan [briefly Neatholme Pit], Great White Egret [Windsurf Pit], 3 Ruff [Bellmoor Lake].
Stoke Bardolph - Great White Egret [on river Trent opposite the ferry boat pub, 13:00].
Collingham Pits - 3 Ruff [1st-winters present around 09;30-10:00], 2 Great White Egret.
Langford Lowfields - 2 Bearded Tit [along the Seasonal Trail, 09:00].
Attenborough Nature Reserve - 2 Black-tailed Godwit [Wet Marsh, 08:00], Great White Egret [Church Pond], 24 Redwing [heading west this morning], Brambling [Clifton Pit, riverside], Siskin [over Visitors Centre].
Saturday 1st October
Holme Pierrepont - Purple Sandpiper [juvenile, still Blotts Pit 07:36 - 15:08 at least], ROCK PIPIT [two Blotts Pit this morning with one still present late afternoon].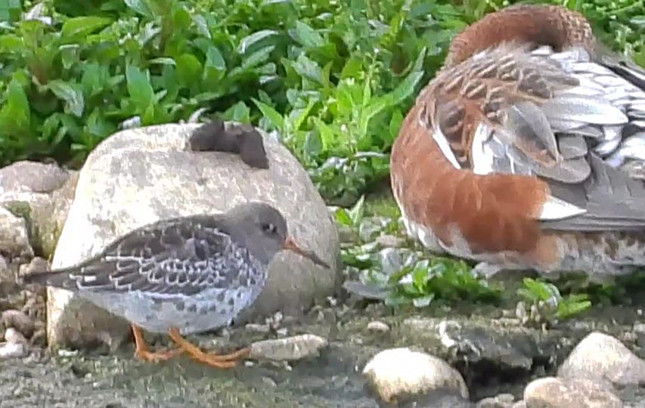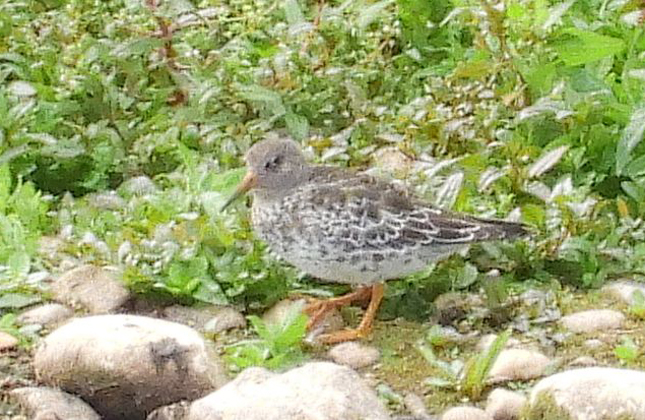 Purple Sandpiper - Holme Pierrepont © Alan Shaw.
Lound [Idle Valley NR] - 2 Pectoral Sandpiper, 6 Ruff, 59 Pink-footed Geese, 6 feral Lesser White-fronted Geese, Marsh Harrier [Neatholme Scrape], 2 Pintail, LITTLE STINT, 5 Curlew Sandpiper, 6 Ringed Plover, 5 Dunlin, CATTLE EGRET [Chainbridge Scrape West], 11 Black-tailed Godwit [Tiln North]; also 3 Green Sandpiper on site.
Langford Lowfields - Curlew Sandpiper [Phase 3, late morning - 15:30 at least]; also 3 Ringed Plover.
Kilvington Lakes - Ruff [West Lake, this afternoon].
Bramcote - c.30 Golden Plover [farmland off Common Lane].
Bingham - Red Kite [near Margidunum roundabout, 12:10].
Annesley Pit Top - MEDITERRANEAN GULL [1st-winter, Bottom Lagoon, 09:10]; also Little Egret, Water Rail, Woodlark, Brambling.
---
Many thanks to:
Alan Clewes, Paul Davidson, David Dougherty, Keith Fisher, Steve Follows, Ade Fox, Pete Freeman, Gil Green, Paul Hobson, Martin Kennewell, Ian Livsey, Paul Naylor, Clive Prescot, Dave Read, Phil Read, Simon Roberts, Alan Shaw, Mark Speck.
@NottsBirders Twitter Feed/Facebook Group, Lound And Bellmoor Facebook Group, Lound Whatapp Group, RSPB Langford Lowfields, Netherfield Wildlife Group, Doncaster Birding.
---
Follow us on twitter
Nottinghamshire Birdwatchers is on twitter. You can use twitter to send us information on sightings, events and other relevant bird news.Follow: @NottsBirders – #nottsbirding