Welcome to the website of the Nottinghamshire Birdwatchers.
The Nottinghamshire Birdwatchers is a registered charity with membership open to all.
The society aims to promote an interest in birds in Nottinghamshire. We are a friendly group for anybody interested in wild birds, living in, or visiting, Nottinghamshire, irrespective of their level of knowledge, experience or skill.
The society is administered by Nottinghamshire birdwatchers for Nottinghamshire birdwatchers.
The society organises local guided walks and trips to birdwatching areas further afield. Communication is by this website, Twitter and by the newsletter that is published on a monthly basis. Membership is open to everyone from experts to beginners.
We are also especially keen to attract younger members to the society, and offer 21yrs and under members the opportunity of funding towards training or attending an event to help improve skills.
Latest News & Information
Nottinghamshire Birdwatchers Historical Records.
Keith Rainford is currently extracting Historical Records from 1000's of old card records from 1950 - 1997.
So far 14 species have been typed up to Excel spreadsheets.
Further Historical Records will be updated to the website as Keith adds additional species records onto Excel spreadsheets.
The work in progress can be viewed HERE.
---
Lockdown Walks & Garden Challange Competition 2020.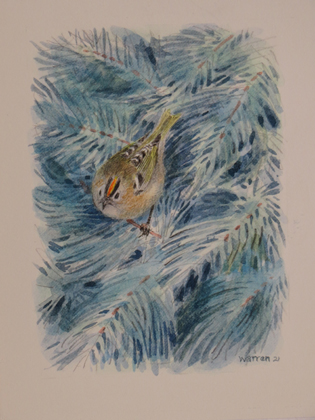 --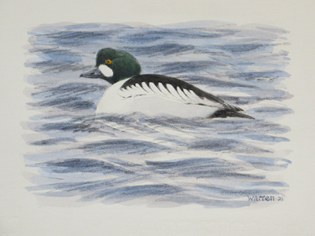 Winners of the 2020 Lockdown Competition were recently presented with their chosen paintings at the 2021 AGM, painted by Artist and Nottinghamshire Birdwatches President Mike Warren.


Bob and Glenys Beck - Lockdown Challenge Garden section winners chose Goldcrest.

Alan Merritt and Karen Bennett - Lockdown Challenge Walks section winners chose Goldeneye.
---
The Birds of Nottinghamshire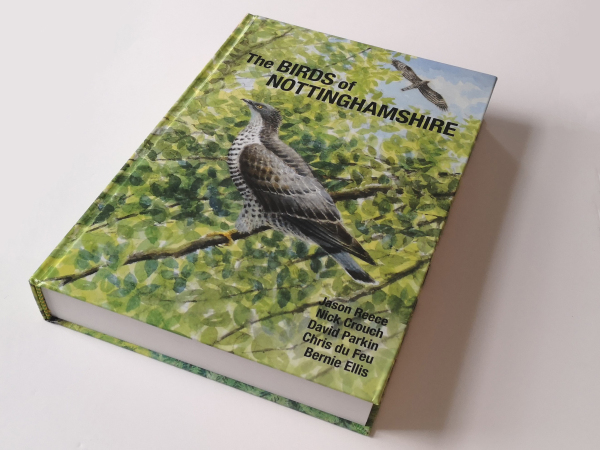 On the publication of our milestone book the Birds of Nottinghamshire it was always our intention that we should make as many copies as possible available to the general public of Nottinghamshire through donations to our many county libraries. On publication we sent copies to the Central Refence Library and the Local Studies Library along with donations to the libraries at the BTO,RSPB & Natural History Museum both Wollaton and Kensington!. We also donated copies to our two University Libraries.
The book has been a great success, wonderfully reviewed and so appreciated by many and is on the verge of selling out. We are therefore really pleased to be able to donate a further 16 copies of the book to Aspire , the County Library Service. They will place the book in all the main County Libraries over the coming few weeks , these are West Bridgford, Mansfield, Beeston, Worksop, Arnold, Newark, Southwell, Hucknall, Kirkby, Sutton, Bingham and Retford.
The remaining copies will be used at the discretion of the library service. We have also offered two free digital downloads of the book which will be added to their growing digital library. We have also agreed to donate a copy to the Bromley Library on Angle Row, one of Nottingham's hidden gems.
We still have a few copies available for donations and would really welcome any further suggestions from the membership.
---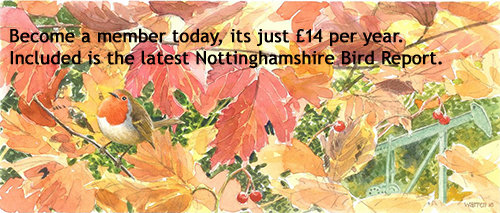 New members can send a cheque for £14 to Mrs Lynne Demaine 33 Daleside, Cotgrave, Nottingham, NG12 3QN. Cheques made payable to Nottinghamshire Birdwatchers.
COMPUTER BANKING: New members who bank online can pay their subs directly into the club's bank account, using these details:- Bank: HSBC Sort code: 40-35-18 Account: Nottinghamshire Birdwatchers Account Number: 60814911 Please put your name on the transfer!
If you do not intend to re-join, please let Lynne know, thank you!
---
The Status of Birds in Nottinghamshire - Jason Reece
Nottinghamshire Birdwatchers have a limited number of this excellent book, for the special offer price of £5.00 with free postage.
The book includes an introduction to the birds of Nottinghamshire, that summarises the status of each species which has been recorded in the county up to 2007.
Special offer price of £5.00 with free postage.
To get your copy whilst stocks last please email Jenny Swindells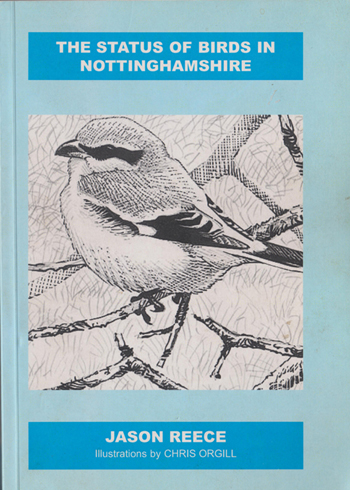 ---
Grants for Young Birders
The committee would like to offer a number of young birders the opportunity of funding towards training or attending an event to help improve their
skills. Examples of the type of training/event we consider as eligible for funding
includes:

• Attendance on a taught training course
• A visit/stay at a bird observatory
• Volunteering to help with bird surveying or conservation work
• Attending a bird conference
These are examples and others can be considered. We have decided to
set an overall budget of £200 for the first year. So, depending on interest, it
could be that there is a contribution by Nottinghamshire Birdwatchers towards
the cost, which can include travel.
Eligible members interested in applying for funding should do so by
emailing the Chairman, Neil Glenn with details. The criteria for eligibility are:
• Applicant is 21 or under
• Applicant is a current member of Nottinghamshire Birdwatchers
• Details of cost will be provided
• Upon completion of the course/event, a short article will be written for
publication in the newsletter
When applying, please allow adequate time before the training event for
a decision to be made by the committee.
Also, if you are a young birder and have suggestions of what we can do
to help further please do let us know.
• Upon completion of the course/event, a short article will be written for publication in the - newsletter.