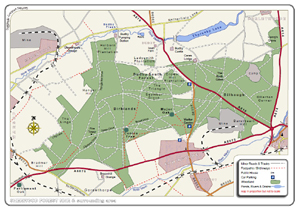 Click on Map for a full size

version
---
Sat-Nav postcode: Sherwood Forest Visitor Centre - NG21 9HN, Budby Pumping Station - NG20 9PG
Budby South Forest – RSPB Reserve.
Access: one mile north of Edwinstowe, ca 17 miles north of Nottingham take the A614 to Rufford CP take the exit after the Rose Cottage public house sign posted Center Parcs and Edwinstowe. Continue on to the village then take the B6034 Swinecote Road.
There are a number of access points but parking can be an issue, parking can be found in the Sherwood Forest Visitor Centre car park, alternatively, on the B6034 pass the SFVC carpark on the left or on the A616 before Budby village (double logs) both are next to gates that open on to the heath. Access from the north is by parking next to the Forestry Commission barrier at Meden Vale water works (Budby Pumping Station) accessed off Netherfield Lane, Meden Vale, but note cars can be broken in too at all these sites but the latter is probably to safest as it is next to houses.
Parking in Budby Village is possible but there are limited areas to stop without upsetting residents, access from Budby village is via a bridleway past Ladysmith plantation.
Bus No 10A runs from the Mansfield Bus station to the Sherwood Forest VC during the 'summer' months. Robin Hood Train-Line from Nottingham to Mansfield (every half hour) then by bus or taxi, alternatively, the nearest train station to the heath is Shirebrook (train one per hour) then taxi or cycle.
Habitat: Sited at the heart of Sherwood Forest to the north of Edwinstowe, Budby South Forest is a lowland heath dominated by dry habitats of acid grassland and heather, the heath has scattered conifer and oak trees with copses of silver-birch. There are a number of ponds created by the MoD when it was a training ground which hold amphibians and attract birds to bathe and drink.
Facilities: There are no public facilities on the heath so come prepared, the perimeter road, ca 3 miles around, is well maintained and relatively flat so easy to walk or cycle. The heath is crossed by two public footpaths, as well as other well used paths, the paths are rutted and can hold water so can be difficult to traverse if you have mobility issues, keep out of the fenced off areas.
Birds: Spring sees large numbers of redpolls and siskin passing through the site, the best area to see these flocks is when they come to drink at either a pool on the footpath or in one of the heaths larger ponds. Look for Common and in some years Arctic Redpolls in these flocks. Common Crossbills may also be present feeding in the pines on Crown Hill or Seymour Grove, fourteen Parrot Crossbills were present during the early part of 2014.
On sunny days in early spring Woodlarks can be heard singing as they drift across the heath, Lesser-Spotted Woodpeckers can be sometimes found in the 'tit' flocks as they forage in the mature oaks that border the arable farmland to the east. Hawfinches are irregular visitors but may be seen as birds fly over the heath as they move between foraging sites or to drink. Recent spring records include Ring Ouzel, Northern Wheatear and Whinchat. Buzzards and Kestrels are regular and there is always the chance of a Goshawk, Honey Buzzard or Raven drifting over.
Summer and resident species include Green and Great-Spotted Woodpeckers, Jay, Tree Pipit, Spotted Flycatcher, Chiffchaff, Willow and Garden Warblers, Common Whitethroat, Linnet, Bullfinch, Yellowhammer, Stonechat were regular until 2014 but seem to have been lost as a breeding species, but the odd Redstart can still be found. On summer evenings Hobby's can be watched as they hawk for insects or chase swallow and martins high over the heath. As the light fades 'roding' Woodcock appear, also possible is a hunting Long-eared Owl or the distant 'squeaky gate' calls of their young which can be heard from June onwards, when, on still evenings the 'churring' song of the Nightjar fills the air.
Autumn look in the more mature habitats around the heaths boundary for Goldcrest flocks, scan these for over-wintering Chiffchaffs and Firecrest, also look for Treecreepers. Small numbers of Meadow Pipits replace the summer migrant tree pipits. The heath regularly attracts a Great-grey Shrike during October; the shrike may over winter on the heath but they are often mobile disappearing in to the surrounding forests for days. On occasions Hen Harriers have roosted on the site.
Andy Lowe May 2016.