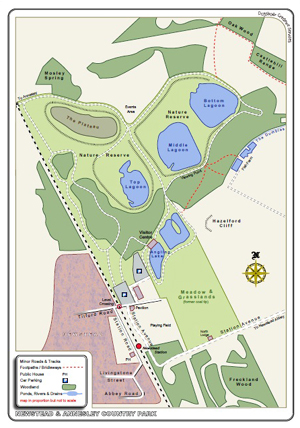 Click on Map for a full size

version
---
Sat-Nav postcode: Tilford Road Parking - NG15 0BU
Introduction: Located in the west of central Nottinghamshire, Annesley Pit Top is one of few pit tops that has escaped the generic 'restoration' process. Through determined campaigning by local birdwatchers and conservation bodies, its uniqueness as an old pit top was thankfully rescued. Having a cluster of small settling ponds and extensive rough grassy areas rendered it particularly attractive for wildlife, and in recognition of its value, it was soon designated a SINC (Site of Importance for Nature Conservation). With very respectable lists (as of July 2016) including 196 species of birds, no fewer than 29 species of butterflies and 18 species of dragonflies, the site has clearly demonstrated how good it is, especially when considering that all these have been recorded in just twelve years.
Access: is straightforward and unlike most pit tops a steep climb can be avoided! The most popular entry is via Newstead village at the end of Tilford Road where parking is available just after the railway crossing or at Newstead station.
History post mining era: As mining came to an end in January 2000, the lagoon complex was left untouched for several years and this in turn facilitated a healthy development of natural habitat. At this early stage there was little change to the site's 'deserted wilderness' charm, a characteristic that is the very essence of pit tops.
Inevitably, however, the pit top soon came under threat as in 2003 its then landowner underwent a series of applications to fill in the lagoons. This was pretty much the standard procedure for old pits tops- drainage of any remaining settling ponds, filling them in with tons of so-called 'inert material' before capping with grassy domes and planting a few trees, usually fast-growing but ecologically poor conifers. The end result is disastrous for species diversity, but the proposals were met with strong opposition from many groups. Amongst the strongest and most fervent arguments was the devastating impact on wildlife, notably the loss of breeding waders such as Little Ringed Plover and (at that time) Common Sandpiper.
Ultimately the opposition groups were successful in preventing the lagoons from being filled in but there was a downside as the Nottinghamshire County Council imposed some remedial work that had to be carried out around the banks of the lagoons. This work was completed in 2007 and although aesthetically it looked satisfactory, it proved to be the last year that Common Sandpipers bred.
With the health & safety issues dealt with there followed more years of neglect. In some respects this was positive as a couple of phragmites reed beds sprung up and some of the more barren areas became weedy. Too much scrub encroachment and the natural forestation of the large grassy plateau were less welcome, and the unhindered vehicle access for anyone meant it was often a less than joyous time being there.
All this demoralizing uncertainty about the site was soon to change, however, and in 2009 the land was purchased by a charity called RCAN (Rural Community Action for Nottinghamshire) with aspirations to create a country park. Although things haven't moved as swiftly as was hoped, progress has been made and we now have a management plan sympathetic to wildlife. The fencing of the largest lake (Middle Lagoon), which was funded mostly by a grant from Nottinghamshire Birdwatchers, has proved to be an enormous success. Disturbance is now minimal and the area within this award-winning project is a totally different place to the free-for-all it was. And the benefits are palpable. Ducks and waders stay longer and there have so far been no further swan fatalities from dog attacks. A peninsula has also been created on this lake, which is to be enlarged/extended over the coming years plus a notice board has been put up on the SE corner, which has proved popular for people interested in the latest wildlife sightings. There are also plans for tern raft, a Sand Martin bank, a screened viewing area closer to the lake, reed bed extension and much more besides. Getting all these exciting plans to fruition is another matter though, as all the work for these types of jobs is carried out by just two volunteer wardens. The formation of a 'Friends of' group is currently in progress so with a bit of luck some urgent manpower will follow.
Birds: As well as being renowned for being the best site in Nottinghamshire for Ring Ouzels (over 30 birds by spring 2016 including seven birds together in spring 2010!), it has proved to be an excellent place for visible migration. This isn't surprising considering its excellent all round vistas, but the total of almost 200, 000 birds logged migrating or dispersing over here since 2004, is quite an eye-opener. Indeed there have been some pretty spectacular movements such as 14,800 Woodpigeons south on November 2nd 2016, 4950 Redwings SW on October 27th 2006, 4295 Fieldfares west on October 20th 2010, and 1205 Meadow Pipits SE on October 4th 2011.
The site also has a very respectable list of county rarities and nationally scarce birds, plus one major rarity- a WHISKERED TERN in 2010, an unquestionable jaw-dropper for a site such as this, though as yet the site's only official national rarity. A mouth watering collection of other terrific birds include Crane (2 records), Ring-billed Gull, Hoopoe, Richard's Pipit (no less than four!), Rough-legged Buzzard, Great White Egret (3 records), Tundra Bean Goose, Arctic Skua (4 records), Red-necked Phalarope, Pectoral Sandpiper, Dotterel, Bearded Tit & Yellow-browed Warbler.
Winter is perhaps the least productive season and many days are unfruitful, leaving plenty of time for land management work such as the constant battle of dealing with scrub encroachment. Thankfully wintering Jack Snipe, and in some years, Short-eared Owls help to make visits more worthwhile.
Early spring is characteristically slow with just the expected trickle of waders such as Curlew, Oystercatcher, Dunlin and Ringed Plover, although none are by no means common. Whooper Swans are annual in early spring nowadays, and it's with pleasing regularity that some flocks actually land. Stonechats may also be encountered and Meadow Pipits are heading NW. By April there is a welcome shift of pace as the majority of summer migrants are arriving, particularly during the second half. If the weather is 'right' May can be a truly exhilarating month, though equally dire if the hoped for easterlies and rain don't materialise. With the latter conditions such as in 2016, a hectic three-day spell produced 11 Greenshank (including flock of nine!), 2 Whimbrel, flock of six Turnstone, tundrae Ringed Plover, Marsh Harrier, Arctic Tern and a splendid Arctic Skua, which was all the more exciting as it actually landed.
As the inevitable dip in activity follows and bird migration all but grinds to a halt in summer, insects become the primary focus of interest. It's surprisingly rewarding and the discovery of rare dragonflies such as Lesser Emperors (twice) and Red-veined Darters (several) were as rewarding as finding unusual birds, and indeed refreshing distractions during the summer doldrums.
Autumn is typically busier, as well as more protracted, with some small-scale migration taking place pretty soon after spring migration fizzles out. By late June the first Common and Green Sandpipers begin to appear, although the occurrence of the latter has become rather unpredictable here lately. Swift migration also begins around this time, before peaking in late July. Also during July, a few more waders begin to pass through, usually adults, plus there are the first passerines heading south such as Yellow Wagtails and hirundines.
There is more of the same in August but with increased momentum and by September one can start to hope for more variety, as well as larger scale movements plus the occasional pulse-racing rarity. Whiskered Tern, Arctic Skuas, Great White Egrets, Honey Buzzard, Pectoral Sandpiper, Richard's Pipit and Lapland Buntings have all been recorded in this month. The pace doesn't let up in October and there have been such gems as Hoopoe, Rough-legged Buzzard, Richard's Pipit (3!) and Lapland Bunting (3 birds), plus locally good birds such as Brent Goose, Hen Harrier (2), Water Pipit (3) & Twite (3 of the site's 4 records are in this month). Autumn continues to be pretty busy during the first half of November, notably with movements of Woodpigeons, Fieldfares and Starlings. By the second half there is the inevitable wind down towards the quieter winter season, although even then there may be the odd surprise such as the Great Northern Diver that almost landed on one of the lagoons one December morning.
Other wildlife: The park boasts and impressive selection of butterflies and Odonata (dragonflies & damselflies) with 29 and 18 respectively logged. Butterfly grassland species are well represented and there are healthy colonies of Dingy Skipper around the site, as well as the occasional Brown Argus and Essex Skipper. A Camberwell Beauty in September 2009 was quite an attraction that sparked a mini twitch. All the expected dragonflies and damselflies are present, and as there plenty of open patches of bare ground, Black-tailed Skimmers are pretty common. Vagrants have included several Red-veined Darters, mostly during the influx year of 2006, but also in two additional years, plus there have been two Lesser Emperors. All the usual mammals have been seen and Roe Deer, in particular, are seen with pleasing regularity. More unexpected was a Water Vole seen on one occasion.
Paul Naylor December 2016