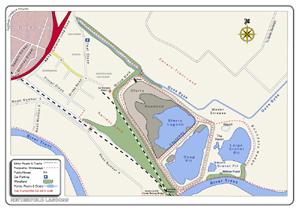 Click on Map for a full size

version
---
Sat-Nav postcode: Teal Close Parking - NG4 2PE
Access: The site can be reached from the Colwick Loop Road, by taking the road to the Victoria Retail Park and parking is via Teal Close, which is the left turn at the island. Proceed almost to the end of Teal Close and then turn right into the unsignposted, but allweather surfaced path along the side of the Ouse Dyke, cross over the footbridge and enter the site. Some limited car parking is available on Teal Close.
An alternative way in is via the Colwick Industrial Park and driving to the end of Private Road No.4, and walking down the path to the River Trent, turning left, under the railway bridge and entering the site from the south-west. The owners of Private Road No.4 have recently enforced a no parking policy that maywell result in your vehicle being clamped. The signs are discretely placed so be careful!
History: Netherfield (or Stoke Bardolph) Lagoons are all that remains of a large industrial site. They consist of two deep tanks built in the 1960s, one of which is now full of coal slurry (Slurry Lagoon) and the other one is still nearly empty (Deep Pit). Beyond them are two disused gravel pits with the river Trent beyond them. Over the years the area was used for railway sidings, with allotments, gravel extraction and depositing coal mining waste. The nearby land, belonging to Severn Trent Water, has been used as a legendary sewage farm and to spread slurry. What was once a broad open area of several acres of grassland with pools is now condensed to around three acres with three pools and about an acre of grass and scrub. The former haunts of Whooper and Bewick Swans and lemuring Short-eared Owls are now covered by industrial units, warehouses and supermarkets.
The Ouse Dyke: can be interesting as you follow it towards the lagoons. There are frequently Kingfishers, Little Egrets, Grey Wagtails, Water Rails and Green Sandpipers and wintering Chiffchaffs along its course. The Severn Trent fields on the left can hold flocks of finches in winter which may contain Brambling or Tree Sparrow.
Rarities have included Siberian Chiffchaff.
The Slurry Lagoon: has standing water over about one third of its surface and a well developed reed bed over most of the rest of it. Before the reed bed developed the open muddy surface was attractive to many species of wader and a flock of up to 4,000 Golden Plover was a regular sight, but these days are gone now, as the reeds have taken over. This reed bed now attracts Water Rails, Bitterns, Bearded Tits and Marsh Harriers and has a large breeding population of Reed Warblers and Reed Buntings. The water is home to a large flock of Teal for most of the winter, with Gadwall, Mallard, Shoveler, Tufted Duck and Pochard also usually present, with Garganey regular on passage. In late summer a spectacular Starling roost develops and, in early autumn, large numbers of Grey-lag and Canada Geese use it to roost, which can attract any White-fronted Geese or other species that may be in the area.
Rarities have included Black-necked Grebe, Slavonian Grebe, Grey Phalarope, Spotted Crake, Dotterel, Wood Sandpiper, Purple Sandpiper, Temminck's Stint, Buff-breasted Sandpiper, Avocet, Stone Curlew, Great White Egret, Lesser Scaup, Green-winged Teal, Spoonbill, Arctic Skua, Glaucous Gull, Kittiwake, Sandwich Tern, Great Grey Shrike.
The Deep Pit: has steep banks and deep water at the bottom. These banks are partly covered by scrub and partly open grassy slopes. They attract several species of breeding warblers in summer and can be fairly reliable for Cuckoos which like to perch on the fence posts while they look for Drinker Moth caterpillars. Floating platforms have attracted a colony of Common Terns to breed annually and in winter these are used by Cormorants.
Rarities have included Common Scoter, Long-tailed Duck, Grey Phalarope, Iceland Gull, Little Tern, Great Reed Warbler, Siberian Chiffchaff.
The Gravel Pits: are home to a winter flock of Wigeon and normally a few Golden-eye as well as Gadwall, Mallard, Tufted Duck, Little Grebe and Great Crested Grebe.
Rarities have included Red-necked Grebe, Smew, Pied Flycatcher, Marsh Warbler, Wood Warbler, Siberian Chiffchaff.
The Wader Scrape: has Little Ringed Plover, Lapwing and Yellow Wagtail breeding, with Stonechat and Little Egret as regular winter visitors and Whinchat on passage.
Rarities have included Sacred Ibis, Wood Sandpiper and Twite.
The River: often has Kingfishers and Sand Martins breeding along it and the muddy beaches can attract migrant Common Sandpiper, or other waders such as Turnstone, Redshank, Dusky Redshank and in winter Goosander and Scaup have been seen.
Rarities have included Little Swift, Dusky Warbler, Great Northern Diver, Gannet.
Over the whole site there are up to ten pairs of Cetti's Warblers and in winter possibly twenty Water Rails, with some staying to breed. Barn Owl and Tawny Owl are regularly seen with occasional Short-eared Owls present too. The Railway Bridge holds a breeding colony of Swallows and the Lower Path has been the best place to see Willow Tit until recently. This path is also good for warblers, with ten species breeding on the reserve. Hobby is a regular summer visitor and, during passage, Redstart, Black Redstart, Wheatear, Spotted Flycatcher, Ring Ouzle, Honey Buzzard, Red Kite, Osprey, Black Tern, Arctic Tern, Little Gull are frequently seen.
Other wildlife: to be found on the site include twenty species, so far recorded, of Damselflies and Dragonflies and twenty-six species of Butterfly.
Peter Smith 22nd February 2016