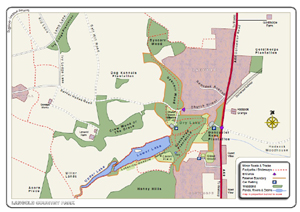 Click on Map for a full size

version
---
Sat-Nav postcode: Church Street Carpark - S81 9QW
Access: Langold Lake Country Park, Church St, Langold, Worksop.
There are two main vehicular access points to the site with car parks – off the A60 Doncaster Road and off the end of Church Street. A permissive path circumnavigates the lower lake; there is a permissive path along the southern shore of the upper lake; and there is a footpath through Dyscarr Wood and several permissive paths through the other woodland areas.
From Worksop take the A60 Tickhill road north for 5 miles, passing through Carlton in Lindrick, Costhorpe and into Langold village. Ignore the first turn off the main road, and continue to the first proper left turn (Ramsden Avenue), opposite the old fire station, and turn immediately left again onto Church Street. Continue along here-the main car park is at the end with Free parking
Facilities: There is a small café near the lake, which is open for light refreshments mainly at the weekend. Near Langold Country Park there is 'Andy's Park Café' which is open 7 days a week until approx 15:00, they serve hot meals, and is very popular.
Toilets near the park entrance and at 'Andy's Café' and car park.
The path starts off with a tarmac surface and then around the lake it is made up of fine rolled-in crushed stone, it is suitable for motorised wheelchairs and manual wheelchairs will require a good pusher as there are a few sloping areas. There are some benches and picnic tables around the lake.
Habitat: The lakes are man-made and were part of a formal landscape created for Langold Hall. The hall was never built but the lakes and part of the parkland now remain as the 162 hectares of Langold Country Park.
A wooded landscape surrounds the lakes, including part of Dyscarr Wood and Costhorpe Plantation. The woodlands are ash-wych elm woodlands, albeit with the cover of wych elm now much reduced because of Dutch Elm Disease. Yew is common throughout the woods along with Pendunculate Oak and Silver Birch. Of note is the occurrence of Hornbeam, with several small trees in the Doncaster Road Plantation. A typical, but diverse bird community breeds in the woodland with lesser spotted woodpecker, marsh and willow tits (Red List Birds of Conservation Concern) notable. Seven species of bat occur in the Country Park – Noctule, Brown Longeared, Daubenton's, Natterer's, Whiskered, and Common and Soprano Pipistrelles. It is one of the most important sites in Nottinghamshire for bats.
The calcareous grasslands are good for plants and two areas are managed as wildflower meadows under Nottinghamshire Wildlife Trust's Blue Butterfly Scheme. Interesting plants include Adder's-tongue Fern, Hay-rattle, Cowslip, Bee Orchid, Restharrow, Agrimony and Hoary Plantain. The grasslands of the Cadet Field and around the old bandstand (Bandstand Field) show traces of shallow ridge and furrow.
Along the southern shore of the lower lake there is an area of damper grassland under power lines. This area is cut early in the year and then left uncut. It has Meadowsweet and a large patch of Sneezewort.
The bank head (eastern end) of the lower lake has been re-enforced with steel piling along its entire length, creating an unattractive area devoid of plant life. The lower lake suffers from a lack of macro aquatic vegetation and prior to 2005 was, unfortunately, sprayed annually to kill off aquatic vegetation to make fishing easier. A notable plant record is the occurrence of Stinking Iris at one location. Common wildfowl occur on the lake, but there is a limited number of breeding wildfowl because of a lack of nesting sites.
Palmate and smooth newts breed in the pond in Costhorpe Plantation. The common frog and common toad both appear to be much scarcer around the lake nowadays. In 2005 common frogs were recorded breeding in ditch to the north of the lower lake. Grass snake has been recorded on the site. Water voles were reported from the lakes in the past, with the last unconfirmed record of two in August 1998. The lakes were re-surveyed by Nottinghamshire Wildlife Trust in 2004 and no evidence of Water voles was found.
Several species of damsel and dragonfly occur. Damselflies include common blue, azure, blue-tailed and large red damselflies and banded demoiselle; dragonflies.include black-tailed skimmer, broad-bodied and four-spotted chasers, southern hawker, brown hawker, migrant hawker, emperor and common darter.
Angling is permitted on the lower and upper lakes. The site has been surveyed by members of the Worksop Local Group of the Nottinghamshire Wildlife Trust. The site falls also within the recording area of the Sorby Natural History Society, Sheffield, and a local birdwatching group, the SK58 Birders, monitors the site. North Nottinghamshire Bat Group surveys the site for bats.
Birds: Winter - Obviously the wildfowl from as far as Siberia and Asia, which arrive in the autumn, are the main attraction. Wildfowl numbers peaked in the mid 1990's when it was possible to see over 400 wildfowl of 9 species, with significant numbers of Coot, Gadwall and Tufted Duck. Alas for reasons unknown numbers have dropped off in recent years. However a cold snap and E winds will ensure a good variety including 100's of Coot, Dozens of Mallard and Tufted Duck, with varying numbers of Gadwall, Mute Swan, occasionally Pochard, Little Grebe with very occasional Wigeon, Goosander, Goldeneye and Pintail. Do not neglect the trees; a wintering flock of Siskin can top 80 birds, with a more normal 40-50 present. In recent winters Water Rail have been recorded. Winter storms sometimes attract the larger gulls-so check them out. Hen Harrier has also wintered here previously.
Spring - The old Pit Top can yield Ring Ouzel and Osprey can also pass through. Woodpeckers occur in the wood, which should not be neglected. Warblers also occur on the woodland fringes and around the lake and Hirundines also stop off to feed.
Summer - At the height of the breeding season Langold Lake can become very busy with swimmers and picnickers. However, 1-2 pairs of Great Crested Grebes breed, as do the resident Tufted Duck, Mallard and Coot. The woods can also be worth a visit.
Autumn - Can be fairly quiet here, although wildfowl numbers build up from late August. Hirundines feed over the lake. As in spring the old Pit Top can yield Ring Ouzel, Reed and Sedge Warbler occasionally occur on passage.
Resident Birds - The diverse habitats ensure a healthy list if one visits early enough to avoid the crowds. The woods hold all 3 woodpeckers although Lesser Spotted Woodpecker no longer occur here regularly. Hawfinches once a regular occurrence are seldom seen nowadays, but are still a possibility. A circular walk through the wood will bring you out at the lake, where the wildfowl can be scrutinised. The resident wildfowl include stable populations of Mallard, Tufted Duck, Coot and Great Crested Grebe.
County rarities recorded include Eider (2006), Black-necked Grebe (2008) and Red-necked Grebe (2010). Locally rare is Shoveler that occurs annual here. Goldeneye and Pintail are rarer and have occurred here in the past. Goosander has also occurred in good number in good years. Hawfinch has bred in the wood north of the lake, but an early start is advised. Osprey occurs in spring and autumn and on several occasions has been seen to catch fish, before moving on.
Produced with help from the SK58 Birders July 2016