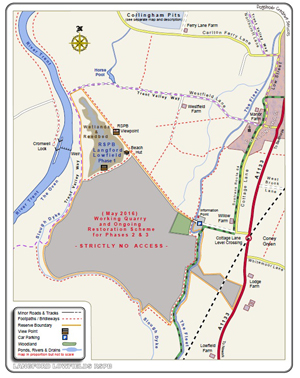 Click on Map for a full size

version
---
Sat-Nav postcode: Cottage Lane Carpark - NG23 7QL
Introduction: Langford Lowfields is a Tarmac sand and gravel quarry undergoing a long-term transition to become a major RSPB reserve in the East Midlands. The site was started in 1989 and there is now public access to a RSPB restored area.
Access: is from the A1133 Newark to Gainsborough road. Immediately north of the railway level crossing before Collingham take a left turn into Cottage Lane, at the first bend go left into the track to the car park. Follow the path through the wood towards River Trent and you come to the RSPB section where there are two signed walks. Overviews of the site can also be obtained from Sustrans track 64 to the east, Trent Valley Way on the west (river) side and there is a public footpath along the southern boundary.
Habitat: is typical Trent Valley quarry pre and post restoration.The end aim is a large reed-bed area with the hope of attracting breeding Bitterns and other speciality species. Bitterns have been present on and off for several years, Marsh Harriers have bred and Bearded Tits are recorded occasionally.
Birds:In winter there is a reasonable selection of duck species also Whooper Swans are seen in small numbers. Regulars include Grey Herons, Little Egrets and Cormorants. Buzzards, Kestrels and Sparrohawk occur frequently with rare visits from such as Red Kite, Osprey and Merlin. Hobbies hunt the reed-beds in summer.
Passage waders depend on conditions which as ever with quarries is linked the the working process. Avocets have bred also Oystercatchers, Little Ringed and Ringed Plover and Redshank. A few pairs of Lapwings fight off the Carrion Crows. A good spring can produce such as Sanderling, Grey Plover and Whimbrel in the autumn there are Black-tailed Godwits, Wood Sandpiper and Greenshank. Green Sandpipers occur most months. Scarce gulls have included Glaucous and Caspian, Black Tens are rare as are Sandwich and Little Terns.
Once regular Turtle Doves are now a rarity reflecting the national decline. Most recent years Cuckoo has been present as the Reed Warbler population grows. Barn Owls are in the area as are rarely seen Long-eared Owls. Now and then there is a Short-eared Owl year. Kingfishers breed but sightings are due to luck.
The RSPB has created a thriving Sand Martin bank and some pairs also nest in working areas of the quarry. Yellow Wagtails have increased their spring presence in recent years, a few Grey Wagtails winter also one or two Stonechats. Cetti's Warblers come and go with the severity of winter and there is a good selection of regular warblers in wooded and bushy fringes. Willow Tits and Tree Sparrows were regular in the nineties but no longer. Reed Buntings are common with their monotonous song a background to summer.
Rare and unusual species have occurred and include Red-necked Grebe, Gannet, Great Egret, Glossy Ibis, Green-winged Teal, Honey Buzzard, Montagu's Harrier, American Golden Plover, Temminck's Stint, Pectoral Sandpiper, Red-necked Phalarope, Richard's Pipit, Hawfinch and Snow Bunting.
The site list is now nearing 200.
Michael Warren 9th June 2016