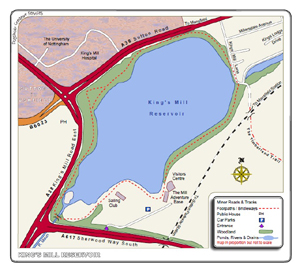 Click on Map for a full size

version
---
Sat-Nav postcode: Main Car Park - NG17 4PA
Introduction: The Kings Mill Reservoir is located between the towns of Mansfield and Sutton-in-Ashfield, sandwiched between the A38 and A617. The site covers 31.8ha and includes a lake, marshy reed bed, grassland and has the River Maun running through it. Its purpose was to provide sufficient head of water to power a succession of working mills along the river. At the northern end of the reservoir you will discover England's oldest railway viaduct and beyond this you'll find a smaller body of water, the Hermitage nature reserve locally known as 'Dead Man's Valley' and is accessed by crossing the viaduct, the entrance is then on the right.
Access: The main vehicle access is off of the A617 Mansfield to Newark road, use postcode NG17 4PA, here there is a car park with plenty of parking. Alternative parking can be found on Kings Mill lane off of the A38 use post code NG18 5HY. There are good bus links to the reservoir from both Mansfield and Sutton-in-Ashfield, bus stops across from Kings Mill Hospital and there is a pedestrian entrance to the reservoir close by off of the A38.
Facilities: The site is well used by local people and is owned/managed by Ashfield District Council. The Visitor Center is approximately 150 m to the right of the main car park and has an excellent cafe serving hot and cold drinks, cakes, cold food and limited amount of hot food, toilets can also be found here. There is a hard surfaced pathway about a mile and a half circling the whole reservoir. There are numerous places to view the water, the best of these are located at the Southern edge in front of the sailing club, at the NE edge from the dam wall, on the Northern edge there is a viewing platform and at the SW end there is a unmarked path off the main path.
Habitat: Most of the edge of the reservoir is vegetated with trees and scrub, predominantly willow but also ash, birch, popular, oak and sycamore. Patches of Phragmites and reedmace can also be found in several areas predominantly at the SW end. In close proximity to the reservoir are a number of horse paddocks and areas of arable land. There is also an area of uncultivated land to the SE of the reservoir on the other side of the railway line know locally as the set aside. The site provides a habitat for a wide range of fascinating wildlife including several pairs of water voles.
Birds: This small urban reservoir has quite an impressive bird list currently standing at 219. The site has recorded a number of county and national rarities. The following list includes some of the more notable and recent records. Ferruginous Duck (1951, 1971, 2010), Lesser Scaup (1996), Velvet Scoter (1995, 1996), Northern Gannet (2014), Whiskered tern (2002), Grey Phalarope (2011), Arctic Skua (1994, 1996), Great Skua (1978, 1994, 1996) and Corncrake (2001 & 2006). Other birds of interest seen recently include, Common Scoter, Red breasted merganser, Sandwich tern, Iceland gull, Caspian gull, Osprey, Hobby, Red kite, Waxwing, Dipper, Nightingale, Bearded tit and Firecrest to name but a few.
The reservoir is home to many species of birds and seen on most visits, Mute swan, Canada & Greylag geese, Mallard, Gadwall, Tufted duck, Pochard, Great crested & Little Grebes, Coot, Moorhen and Grey heron. It is also possible to see Lapwing, Pied & Grey Wagtail, Kingfisher and Reed Bunting. There are numerous feeding stations and tree cover around the reservoir and these attract many woodland species including, Nuthatch, Treecreeper, Great Spotted woodpecker, Goldcrest, Finches & Tits including Willow Tit, Wood Pigeon, Collared & Stock Doves. Buzzard, kestrel and SparrowHawk, Yellowhammer, Skylark' Meadow Pipit and Linnet can also be seen regularly around the recording area.
During the Winter months the reservoir attracts smaller numbers of other water birds including Wigeon, Shoveler, GoldenEye, Shelduck, Teal, Water Rail, Snipe. There is also a good size Gull roost, Black headed gull being the most abundant with smaller numbers of Common, Lesser black back and Herring gull. Mediterranean, Great black backed, Little, Caspian and Yellow legged gulls are also possible, Iceland and glaucous have also been recorded in recent years.
Spring sees the arrival of the migrants and Swallow, Sand and House Martin are seen in good numbers feeding over the water. The more common warblers can be found in small numbers around the reserve, including Reed, Sedge, Garden & Grasshopper, Whitethroat and Lesser Whitethroat. Wader habitat is at a minimum but it is possible to see the odd Common sandpiper, Ringed or Little ringed plover. Other waders are recorded annually but usually just in passage. Wheatear and Yellow wagtail are possible in the many paddocks around the site. At the Hermitage nature reserve there is a very active and popular Heronry (approx 12 breeding pairs).
Summer See's Swift's arriving in numbers and Terns can be seen passing through, Common, Arctic, and occasional Black tern. Breeding can be noted around the site and a pair of Common tern have bred on site almost annually for the last 20 years. Waterfowl, Warblers, woodland and farmland species, also breed in good numbers around the site and include Little & Great crested Grebe, Mute swan, pochard, Tufted duck, sedge and reed warblers, Grey wagtail, Long tailed tit and willow tit.
During Autumn, spring migrants can be noted passing back through the reserve and also the passage of winter spices can be recorded, with Redwing, Fieldfare, Meadow pipits, Doves and Pigeons, Hirundines and finches all seen in good numbers.
Richard Challands July 2016