Site 22 - Kilvington Lakes.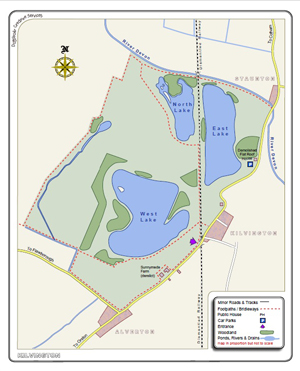 Click on Map for a full size

version
---
Sat-Nav Postcode: Kilvington to Staunton Road - NG13 9PH
Access: Kilvington is situated in the south-east corner of the county, 8 miles south of Newark. It lies within the Vale of Belvoir, close to the junction with the counties of Leicestershire and Lincolnshire. The nearest site well-known to birdwatchers is Cotham Flash, which is 4 miles to the north.
For access from Nottingham take the A52 towards Grantham. Turn right off the A52 at Elton onto Station Rd, Continue onto Lordship Lane, Turn right onto Spa Lane and take a Slight right onto Longhedge Lane.
The main view point is beside the old railway bridge on the only road running through Kilvington. This has good views over the West Lake, and parts of the other two lakes can also be seen from here. For a full view of the North Lake you can walk to it along the old railway track, starting from the main viewpoint. This walk also gives a commanding view of the East Lake. People who do not want to walk can get a goodish view of the East Lake by parking at the flat-roofed house beside the Kilvington to Staunton road. The owners of the site do not object to birdwatchers.
History: The three lakes at Kilvington were formed as a result of open-cast gypsum extraction. Gypsum is a heavy whitish crystalline rock which occurs in beds typically 25 feet or so beneath the surface. Its chemical substance is hydrated calcium sulphate, and its main uses are for making plaster and plaster-board for building, plaster-of-paris for setting broken bones, and a host of minor uses including as a carrier for medical pills, and a whitener for bread.
There are some important differences between old gypsum pits & old gravel pits. The associated soil is a red marl and this tends to carry more food for wading birds than sandy and gritty margins. The type of weed growth is also different and there may be more molluscs in gypsum pits. At Kilvington there are large numbers of small whelks, as well as larger mussels, some of which provide a useful food source for wintering diving ducks such as the six Common Scaup which overwintered in 2007/2008. A further difference is that gravel pits occur in flat country, usually a riverine flood plain, and often have small vertical banks. Gypsum is often found occurring on low fields beneath small limestone escarpments, and the main viewpoint at Kilvington West Lake is in such a situation, standing 10 metres above water-level, giving good views down onto the lake, which can be very helpful when you are identifying birds or ageing gulls flying past beneath you. The banks in many cases slope down at a low angle, so that, as water levels drop, wide margins of shallow water are exposed.
West Lake: began to fill up in the summer of 2005, following the completion of extraction on the west side of the old Newark to Bottesford railway line. British Gypsum, the site operators, were busy grading many of the banks into nicely shelving slopes, providing for deep water in parts, shallow water in other parts and interesting features such as a spit enclosing a small bay, and also an island. All of these features have been put to good use by feeding and breeding species.
When the restoration of the West Lake was being planned a mistake was made in the final water-level expected, and plantations of young trees and parts of new hedgerows were drowned, in some instances permanently. Towards the end of the quarrying work more and more water was pumped into the Lake from the pit where gypsum was being won, and observers watched in amazement as whole rows of newly installed fenceposts and even 5 bar gates and gateposts disappeared completely beneath the surface of the water. Eventually, after gypsum extraction and pumping both ceased, the water level dropped about 2 metres from its maximum, and the situation has now stabilised. During this process it was noticeable that when the West Lake was at its maximum extent it did pull in more passing wildfowl, and as a consequence some small old established pools nearby also held more duck than usual.
The first species to colonise the initial pool of water that formed in the deepest part, was Little Ringed Plover. Mallard soon followed, and by the next year, when water started to reach shallow parts and there were big areas of bare red marl, huge numbers of gulls from the feeding flock at Cotham Tip came to loaf. In the winter birds of prey such as the occasional Peregrine and Merlin made an appearance. In the first 2 years not many waders beside the Little Ringed Plover came, but this was all to change in the course of time.
East Lake: lying between the old railway and the road from Kilvington to Staunton, started filling about 2007-2008, following the completion of all mineral extraction on the site. It has deep water at one end and shallow water at the other, with some steep banks and some shallow shelving banks. The old railway runs all along one side, and access is allowed there; there is also a good viewing place off the public road, beside the flat topped house half way between Kilvington and Staunton.
North Lake: filled up last of all, as it contained the crushing and grading plant for the quarries. This part was in fact an old lake left from a previous phase of extraction, and records from this site occasionally cropped up in the Notts Birdnews in the late 1990s. When the water level was lowered to allow installation of plant and machinery for the final phase certain pools of deep water were allowed to remain, and luckily fish survived in these, and when the North Lake filled up again they escaped through the connecting pipe beneath the old railway into the East Lake, leading to rapid colonisation of that new lake by the fish and providing an immediate food source for species such as grebe and Goosander.
Birds: As the site does not lie within a major river valley like the Trent or the Idle. Kilvington Lakes relies mainly on easterly winds to bring interesting migrating birds. The situation is not as simple as that of course, as good birds can and do arrive on winds other than easterlies, and then you can have a spell of easterlies at migration time which may bring in surprisingly few migrants (as happened in spring 2010).
Breeding birds - A good number of species breed. Five species of waders now breed fairly regularly - Oystercatcher (1 pair), Little Ringed Plover (2 pairs), Great Ringed Plover (1 pair), Common Redshank (1 pair) and Northern Lapwing (which nest around the site on restored arable and grass fields, and their young often feed near the margins). A pair of Common Terns nest on the island and Common Shelduck nest each year bringing their brood of ducklings (which have varied in number between 2 and 11) onto the water. Mallard also nest each year and Tufted Duck do so on occasions. Grey Partridges, Skylarks, Yellow Wagtails and a selection of commoner species also breed on adjacent areas.
Wintering birds - The usual selection of wildfowl that you would expect to find on a Nottinghamshire water are also found here, including 6 species of dabbling duck, common species of diving ducks, Goldeneye and Goosander. Some wild swans appear each year. These are mainly Whooper Swans and one stayed till midsummer in 2007. Common and Jack Snipe are regular on wet areas adjoining the lakes and are sometimes present in good numbers.
Birds of prey - Kilvington is a good place for predators and 10 species have been recorded over last 5 years. Peregrines have visited at all times of year, sometimes regularly, and birds of all different ages have been seen at they site. They appear to come for bathing more often than for hunting, and their nearest nesting site is at Grantham Church, 8 miles away but probably only 12 minutes' flight time. Kestrel and Buzzard nest nearby, and Hobbies used to nest in the area.
Passage migrants - 25 species of waders have been recorded so far, including Temminck's Stint and a number of Wood Sandpipers (which are not rare in this part of the county). Black Terns are very welcome birds of passage, but they are not seen every year; the same remarks apply to Arctic Tern. Redstarts have also passed through a couple of times and the occasional Whinchat, whilst Northern Wheatears can be seen in reasonable numbers each spring.
Gulls - Kilvington is a very good place for gulls, mainly because of its proximity to Cotham Tip (which is only 3 miles away). 11 species of gulls have been recorded so far, not to mention various subspecies and at least 2 hybrid varieties. Kilvington is an exceptionally good place for seeing Yellow-legged Gulls in good numbers around August time and 21 were counted in August 2008. There is a seasonal pattern to the composition of the local gull flock. Starting in July at least 95% of the gulls present are Lesser Black-backed Gulls, but with a small number of Yellow-legged Gulls. Numbers then build up as returning adults and juveniles join the non-breeding age-groups. 800 or 1,000 are often present on a good day and the largest flocks contain the most Yellow-legged Gulls. As the autumn advances Black-headed, Herring and Common Gulls increase markedly, but when the first spell of really cold weather comes, perhaps in late November, the Lesser Black-backed Gulls rapidly disappear until by Christmas hardly any are left. Great Black-backed Gulls increase in numbers at this time and the New Year is the most likely time for spotting Iceland, Glaucous and Caspian Gulls. As the spring approaches most of the gulls leave for their breeding grounds, apart from the Great Black-backed Gulls, which are often the predominant species in April and May, sometimes being present in flocks of 350, including many non-breeding birds. By June many Lesser Black-backed Gulls of 1st, 2nd and 3rd summer age groups are back and they are then predominant in the flock which feeds at Cotham, and loafs at Kilvington during the day. The vast majority of gulls from this site would appear to roost at Hoveringham, judging by the direction they take at evening.
Footnote: The site list of species seen at Kilvington as of February 2016 currently stands at 182 species and will undoubtedly increase in time. This is a fairly well-watched site and the total has been attained by dint of many hours of patient and persistent watching. It should hardly be necessary to add that this means that a single casual visit by someone from another area might not reveal any birds at all out of the ordinary. Despite that the site is well worth a visit at any time of year.
Edward Staunton February 2016.