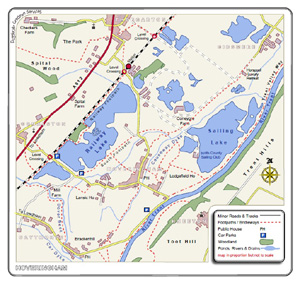 Click on Map for a full size

version
---
Sat-Nav postcode: Sailing Club - NG14 7JS, Thurgarton Station - NG14 7HD
Access: The Hoveringham gravel pits lie to the north and east of Hoveringham village. They are reached off the A612 Nottingham to Southwell road. Limited parking for the Railway Pit consists of a roadside layby and grass verges on Gonalston Lane and a small area of hard standing adjacent to the Thurgarton Railway Station. Vehicle access to the Sailing Lake is for members of Notts County Sailing Club or key holders only.
The site can be easily reached by rail. The smart looking Thurgarton Railway Station is immediately adjacent to the Railway Pit.
Nottingham City Transport service 100 from Kings Street, Nottingham to Norwood Gardens, Southwell. The closest stop is Station Road, Thurgarton.
History: Gravel extraction was started in this area in 1939, by the Hoveringham Gravel Company, which was taken over in 1982 by Tarmac. The Hoveringham Gravel Company used to have a mammoth as their logo on their lorries as a celebration of then finding of mammoth remains at their workings. Gravel and sand extraction in this area ceased at the end of 2007.
Habitat: Mature gravel pits and farmland with a number of relatively small woods and copses.
The Sailing Lake - Best known as one of the premier gull roosts in the midlands. As well as the common species, Glaucous, Iceland, Caspian, Yellow-legged and Mediterranean Gulls are annual visitors. Nottinghamshires only record of Kumlien's Gull was recorded here in 2006. The best months to observe the rarer species are November through to February. The famous 'tree' provides an excellent vantage point to view visible migration in the autumn and to look for raptors appearing over the escarpment on the opposite side of the River Trent. Unfortunately there is no permanent wader habitat so records are often restricted to fly-overs. Duck numbers are fairly unremarkable.
The Railway Pit - Being positioned a little further away from the River Trent, the Railway Pit does not always record the number of passage species seen at the Sailing Lake. However, the group of approximately twelve small islands do provide a chance for wading birds to stop and feed and along with the commoner species there is always the chance in spring or autumn of Grey Plover, Ruff, Black-tailed Godwit, Whimbrel and Greenshank. Duck numbers are usually greater here than on the Sailing Lake.
The Railway Pit Wood - The wood holds a variety of commoner species including Green and Great Spotted Woodpeckers, Goldcrest, Nuthatch and Tree Creeper. Lesser Redpoll and Siskin are regular in winter and occasionally Woodcock.
Birds: Notable breeding species include, Egyptian Goose, Grey Partridge, Little Grebe, Grey Heron, Common Buzzard, Little Ringed Plover, Oystercatcher, Black-headed Gull, Common Tern, Little Owl, Barn Owl and Reed Warbler. In recent years Red-crested Pochard, Hobby, Common Redshank, Lesser Black-backed Gull and Tree Sparrow have also bred on site.
Scarce species which are annual or almost annual include, Whooper Swan, Pink-footed Goose, Garganey, Scaup, Common Scoter, Smew, Black-necked Grebe, Red Kite, Osprey, Grey Plover, Knot, Sanderling, Black-tailed Godwit, Bar-tailed Godwit, Whimbrel, Turnstone, Mediterranean gull, Little Gull, Caspian Gull, Glaucous Gull, Iceland Gull, Kittiwake, Arctic Tern, Black Tern, Redstart, Whinchat, Tree Sparrow and Brambling.
The total number of species seen on the Hoveringham complex is 228. The site has recorded a number of county and national rarities. The following list includes some of the more notable records. American Wigeon (2002 and 2007). Redhead (a drake which frequented the Jubilee Ponds and Gibsmere from 8th-27th March 1996 before being noted at Rutland Water in Februray 1997 remains the only acceptable record in the UK) Ring-necked Duck (2000 and 2001). Ferruginous Duck (1964). Velvet Scoter (1947). Storm Petrel (1977). Black Stork (2015). Glossy Ibis (2014). Kentish Plover (1979). American Golden Plover (1995). Buff-breasted Sandpiper (1986). Great Snipe (1973). Kumliens Gull (2006). Ring-billed Gull (1996). Roseate Tern (1990 and 2003). Ortolan Bunting (1971).
John Hopper 8th June 2016