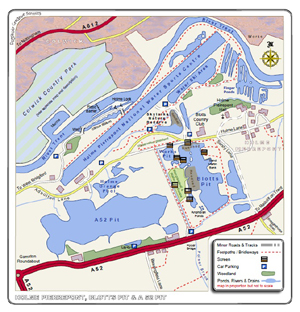 Click on Map for a full size

version
---
Sat-Nav postcode: Adbolton Lane entrance - NG12 2LU
Introduction: Holme Pierrepont is located 2.5 miles southeast of Nottingham on the south side of the River Trent between the towns of West Bridgford & Radcliffe-on-Trent. The site is best accessed from Adbolton Lane in West Bridgford (NG12 2LU).
The site consists of a wide range of habitats, the most productive of which are its sixteen separate waterbodies. Their usage is varied, including a designated nature reserve and venues for a variety of recreational activities such as rowing, wake boarding, hovercrafting and fishing.
Key Birding Areas
A52 Pit – The largest waterbody within the complex, with a length of 1275 metres and at its widest point, a width of 505 metres, the pit was created as a result of an extended period of sand and gravel extraction which eventually ceased in 1990. Although there is no access to the pit itself, which is surrounded by privately owned pasture, reasonable, albeit restricted views can be obtained from the following positions:-
Views of the west end can be obtained from two gateways located 400 metres east of the Gamston roundabout along the A52. Park in the large layby 750 metres east of the two gateways and walk back west to view. Do not park in the gateways.
Views of the east end can be obtained from the concrete footpath with runs along the west side of Blotts Pit. The north end of the footpath can be accessed from Adbolton Lane (NG12 2LU) while the south end is accessible from the A52 just east of Mewar Haveli Indian Restaurant (NG12 2LF).
Very restricted views (through a hawthorn hedge) can be obtained from Adbolton Lane (NG12 2LU) just west Holme Grange Cottage.
Blotts Pit - The pit is best accessed from Adbolton Lane, either from the Nottinghamshire Wildlife Trust 'Skylarks Nature Reserve' carpark or by parking adjacent to Blotts Country Club, which Blotts Pit is located immediately to the south of. Both access points are accessible to wheelchair users with a Radar Key, while toilet facilities are present just south of the 'Skylarks Nature Reserve' carpark. Following several stages of staggered sand and gravel extraction, a number of smaller pits were flooded together in 2004, creating one large area of open water with a length of 720 metres and at its widest point, a width of 380 metres. Blotts Pit remained in this state until the autumn of 2014 when, following the purchase of 36 hectares of land on the north & west sides of the pit by the Nottinghamshire Wildlife Trust, a significant habitat creation project commenced. Blotts Pit now comprises of a superb blend of habitats, including wet grassland, scrubland and reedbed, while the addition of islands and bunds have also greatly enhanced the sites attractiveness to wildlife. A two mile footpath circumnavigates Blotts Pit and the adjacent Works Pond, with eight viewing screens located along the route…this can get particularly muddy following rain so sensible footwear is recommended.
Works Pond - This small waterbody is located on the west side of Blotts Pit, and is best accessed by parking adjacent to Blotts Country Club on Adbolton Lane and walking west for c200 metres. The pond has a small but increasing reedbed on its west side, a gravel bank on its north side and waterside trees along its east and south side.
The Rowing Course - Located within the National Watersports Centre, the Rowing Course is a large waterbody with a length of 2000 metres, width of 140 metres and depth of 4 metres which is surrounded by mown grass banks. It can be accessed from a number of points along Adbolton Lane, including carparks at the northwest and southwest end and by the Water Ski Pit. The Rowing Course is most productive during the winter months for Wildfowl and during Spring & Autumn passage, particularly for Terns & Hirundines. The site is used for number of large events each the year (Marathons, Triathlons, Rowing Regattas etc), it is thus advisable to check http://www.nwscnotts.com/nwsc/EVENTS_Index prior to visiting.
Birds: At the time of writing, Holme Pierrepont has recorded an impressive 241 species of bird, with the site typically logging between 150 – 160 species annually.
Key Species
Smew: During the last decade Holme Pierrepont has established itself as the most regular and reliable location to encounter Smew in Nottinghamshire. First arrivals generally occur during December, with numbers building though the winter, usually peaking between mid-February & early March. The winter of 2012-2013 proved the most productive in recent years with nine birds noted. Although Smew are mobile around the site, they regularly return to favoured localities, these including the Works Pit, the north end of Blotts Pit and the west end of the A52 Pit. Due to vegetation clearance, the once favoured Finger Ponds are now rarely visited by the species.
Hobby: The species is a regular feature at Holme Pierrepont throughout the spring and summer, with first arrivals generally occurring a few days either side of 20th April. In recent years Holme Pierrepont has been used by Hobbies as a pre-breeding gathering site. During this period of activity which peaks from early to mid-May, double figure counts are not unusual, and have included a county record count of 17 birds on 16th May 2010. Hobbies are best looked for either at the A52 Pit or Blotts Pit.
Resident Birds include Great Crested Grebe, Little Grebe, Sparrowhawk, Kestrel, Water Rail, Barn Owl, Tawny Owl, Little Owl, Green Woodpecker, Great Spotted Woodpecker, Jay, Nuthatch, Treecreeper & Cetti's Warbler.
Winter – Wildfowl is well represented during the winter months, Mute Swan, Great Crested Grebe, Tufted Duck, Pochard, Gadwall, Wigeon & Goldeneye are all present in good numbers, with reasonable numbers of most other common species. As mentioned above, Smew are present annually, while species such as Whooper Swan, Pink-footed Goose & Scaup, although uncommon, are recorded most years. A selection of waders are noted during the winter months, Redshank, Golden Plover, Dunlin, Curlew, Woodcock & Jack Snipe are recorded annually, while recent years have produced records of Knot, Black-tailed Godwit, Bar-tailed Godwit, Sanderling, Grey Plover & Ruff. There is a Gull roost on the A52 Pit which although unpredictable and prone to disturbance has produced annual records of Mediterranean Gull, while Glaucous, Iceland & Caspian Gulls have all been recorded on several occasions. Although rarely seen, one or two Bitterns are present most winters while the equally elusive Water Pipit has also wintered on site on several occasions. Rare birds recorded during the season include Razorbill (1984), Spotted Sandpiper (1994-1995), Lesser Yellowlegs (1995), Lesser Scaup (2008-2009) Glossy Ibis (2013) & American Wigeon (2015).
Spring Passage - The new habitat created on Blotts Pit has significantly increased the number of passage waders using the site, Ringed Plover, Dunlin & Common Sandpiper occur frequently while although less common, Curlew, Whimbrel, Black-tailed Godwit, Greenshank & Green Sandpiper generally make several appearances per spring. A selection of uncommon wader species occur each spring, although none do so annually, with species such as Bar-tailed Godwit, Grey Plover, Sanderling, Turnstone & Wood Sandpiper appearing on average every two or three years. A good variety of uncommon migrants occurs at Holme Pierrepont each spring, Black-necked Grebe, Whooper Swan, Common Scoter, Garganey, Marsh Harrier, Red Kite, Black & Arctic Terns, Little Gull, Rock Pipit & Whinchat all occur most years, while although scarcer, Osprey, Kittiwake, Little Tern, Ring Ouzel & Redstart are all realistic targets. Passerines which pass through the site in notable numbers include Wheatear (peak day count of 32 birds), White Wagtail (peak day count of 19 birds) and Yellow Wagtail. Rare birds recorded during the season include American Golden Plover (1995), Green-winged Teal (1999), Cattle Egret (1999), Red-necked Phalaropes (2011 & 2016), Ring-necked Duck (2012), Lesser Scaup (2013 & 2014), Great White Egret (2014) & Grey-headed Wagtail (2015).
Autumn Passage – Waders also provide plenty of variety during return passage, with the season often commencing as early as June with the first returning Green or Common Sandpiper. Ringed Plover & Dunlin occur frequently, while Greenshank, Black-tailed Godwit & Ruff appear most years. Although infrequent at Holme Pierrepont, Turnstone, Spotted Redshank, Little Stint & Curlew Sandpiper have all made several appearances in what is their most regular period for sightings. As in spring, a number of uncommon migrants are logged most years, these including Whooper Swan, Pintail, Little Gull, Black Tern & Rock Pipit while although less frequent, autumn has accounted for most records of Red-breasted Merganser, Short-eared Owl & Bearded Tit. In suitable conditions, notable movements of Meadow Pipits, Hirundines, winter Thrushes & Finches can be recorded while autumn storms can produce exciting seabird occurrences, with the last ten years alone having amassed sightings of Gannet, Great Skua & 8 Arctic Skuas. Rare birds recorded during the season include Leach's Petrel (1994), White-winged Black Tern (1994), Richard's Pipit (1994, 2007 & 2013), American Wigeon (2001), Grey Phalarope (2005), Lesser Scaup (2008), Spoonbill (2015) & Great White Egret (2015).
A good number of local & national rarities have been recorded on site, these including American Wigeon, Green-winged Teal, Ring-necked Duck, Ferruginous Duck, Lesser Scaup, Long-tailed Duck, Fulmar, Manx Shearwater, Leach's Petrel, Gannet, Red-throated Diver, Black-throated Diver, Great Northern Diver, Cattle Egret, Great White Egret, White Stork, Glossy Ibis, Spoonbill, Montagu's Harrier, Spotted Crake, Stone Curlew, Crane, American Golden Plover, Kentish Plover, Temminck's Stint, Purple Sandpiper, Pectoral Sandpiper, Red-necked Phalarope, Grey Phalarope, Spotted Sandpiper, Lesser Yellowlegs, Pomarine Skua, Arctic Skua, Great Skua, Razorbill, White-winged Black Tern, Roseate Tern, Golden Oriole, Great Grey Shrike, Richard's Pipit, Grey-headed Wagtail, Lapland Bunting & Snow Bunting.
Alan Clewes 21 June 2016