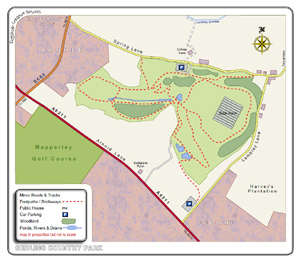 Click on Map for a full size

version
---
Sat-Nav postcode: Spring Lane Carpark - NG4 4PE, Lambley Lane Carpark - NG4 3RJ
Access: The park can be reached from Nottingham by bus. The Nottingham City Transport Sky Blue Line 47 stops near the Spring Lane entrance to the park and the Red Line 44 stops on Lamley Lane for access to the lower park.
The park can be accessed by car from off the B684 Plains Road down the A6211 to Gedling and turning right up Lamley Lane to the car park, also off the B684 onto Spring Lane will take you to the upper car park, brown guide signs show this route. Access is also available from the Colwick Loop Road, A612, off through Gedling Village and turn right onto Lamley Lane. Two car parks exist - Spring Lane with more than 40 spaces and Lamley Lane with 50 spaces.
History: Opened to the public March 2015 the park consists of 240acres of a reclaimed brown field site, Gedling Colliery Waste Tip, and contains areas of neutral and alkaline grassland, semi mature woodland, recently planted woodland, Lagoons, scrapes and areas of seasonal wetland. The conservation management of the park is shared by Gedling Borough Council and The Friends of Gedling Country Park. Ecological surveys have been carried out and a management plan for wildlife conservation is in operation. The policy is to create a Country Park with native only flora for future generations to enjoy, to provide outdoor recreation for all, and to conserve and enhance the County's flora and fauna.
Habitat: Recently planted woodlands consist of a mixture of native hardwoods Silver Birch, Sessile Oak, Hawthorn, Alder, Scots Pine, Wild Cherry, Ash, as well as some non-native species due to be removed during future woodland management. Semi-natural woodland consists of a mix of species, including some non-natives, and these are being surveyed to decide suitable management plans. Other habitat types present are Bare ground – forming a mosaic with lower growing grassland in places on the south-facing banks in the south-west of the site. Dense scrub – dominated by Hawthorn, Bramble, Rose and Blackthorn occur along some woodland boundaries. Semi dry ditches – A number of drainage ditches and channels Bulrush and Common Reed occur in small stands within these areas but very little else aquatic or marginal vegetation. Open Water – a number of ponds occur, some drying out in dry summers, Very little recording has been done in these areas and work is in progress. Wet Flashes - a number of these occur within the grassland areas on the pit top. Many are comprised of small stands of Common Reed and Bulrush with little or no standing water. Poor semi-improved grassland – occurring in the north of the site between Spring Lane and the woodland. The dominant grass species occurring are Yorkshire-fog, False oat-grass and Cock's-foot. Semi-improved neutral grassland – the majority of the grassland within the site, species rich and comprising of a number of interesting floral species. These areas were sown with a grass seed mix in 2006 following an application of topsoil. Species-poor hedgerow – this occurs along the north-west boundary and consists of Hawthorn, Field maple, Pedunculate oak with occasional Goat willow.
Birds: In Winter there can be quite large flocks of Siskin and Redpoll mixed with the ever present Goldfinches and intermittent flocks of Long-tailed Tits. Also a few Redwing and Fieldfare come and go throughout. Crows can be present in large numbers over the Solar Farm showing off their aerial expertise. It has been a good site for Short-eared Owl but as always this depends on good Vole numbers. Stonechats can be approachable and Common Snipe and Woodcock can be seen in the evenings, Jack Snipe are here but rarely seen. As winter ends Pink-footed Geese may been seen heading north. In the past a variety of waterfowl were seen on the ponds during winter.
In Spring the Park is full of birdsong from numerous Skylarks which can be seen and on all of the Parks 240 acres. By mid April Willow Warbler and Chiffchaff are sorting their territories out with other warblers, such as Reed Warbler. both Whitethroats and hopefully, as in 2014, good numbers of Grasshopper Warblers. Migrating birds, especially Wheatear, take a break on site as they spread throughout the country.
In Summer the Skylarks and Meadow Pipits are the main attraction and as they fly over all day you will be surrounded with activity. Linnets are found near the Spring Lane car park. Breeding Little Grebe, Coot and Moorhen are found on the ponds. Lapwing have taken to breeding within the boundaries of the Solar Farm. Due to the good selection of Warblers Cuckoos are always present, Hobbies pass through after the hirundines and the fantastic selection of Dragonflies within the Park. Areas of the Park have been fenced and this should protect Grey Partridge, Skylark as well as other ground nesting species.
Autumn is always a little quieter than Spring, but in the past numbers of waders, Tits and Finches as well as numerous migrants passing through can always be recorded. Also with an early start the resident Tawny Owls can be heard greeting you.
County rarities have included; Rough-legged Buzzard (2011), Lapland Bunting (1996), Snow Bunting (1996).
General: The Park has been newly opened to the public (March 2015) and work is underway to create wildlife friendly habitats for the future. However major construction around the site is set to commence shortly which will have an impact. Luckily the majority of the construction companies involved are working with the Parks' Conservationists to improve areas and keep to the policy of native only species planting surrounding the Park. All are welcome and any assistance with species monitoring, recording, or other volunteering will be gratefully received.
Mammals: The parks diverse mammal population is best seen early mornings or late evening. Predictably the invasive non-native species, Rabbit and Grey Squirrel are present in numbers and easily observed, Roe Deer are not so readily visible and Muntjac seldom seen but often heard 'barking' in the woods. Fox and Badger are both resident in the park, Hares are frequently seen across the grassland. Of the smaller mammals Hedgehog, Mole, Stoat, Weasel have been recorded. Many smaller Rodents are present probably in considerable numbers. Six bat species are reported from the park Daubenton's, Natterer's, Whiskered/Brandt's, Pipistrelle, Soprano Pipistrelle and Noctule.
Invertebrates: Gedling Country Park supports a very diverse invertebrate fauna with 258 species of invertebrate being known from the site. Many of these species are grassland and meadow specialists which rely on specific plant species as their food source. Other species found are associated with newly disturbed land and rely on the complex habitat mosaics found on the site. Twenty-five species of Butterflies have been recorded on the park, including one of only two locations in Nottinghamshire of the Dingy Skipper. Several species which are new to Nottinghamshire have been recorded at the Park (i.e.are recorded nowhere else in the County) these include a small weevil Microplontus campestris, a ground beetle Microlestus minutulus, and the turtle shield bug Podops inuncta. Five of the species of Coleoptera found are considered as nationally notable and are listed as Species of Conservation Concern.
Reptiles and Amphibians: The only reptile reported from the Park is the European Grass Snake recorded on the Southern boundary area. Common Frog, Common Toad and Smooth Newt are resident and breed in the Park.
Flora: Due to the variety of habitats within the park a very diverse flora exists within the park, much of this is as yet unrecorded, work is, however, progressing and published data should be available end 2016. Five species of native Orchids have been recorded, Early Purple, Southern Marsh, Pyramid, Common Spotted and Bee, as well as one suspected Orchid Hybrid (Early Purple X Southern Marsh?).
Brian Osborne & Mark Tyler March 2016.