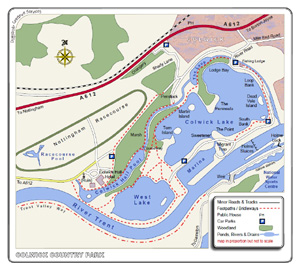 Click on Map for a full size

version
---
Sat-Nav postcode: River Road Carpark - NG4 2EW, Mile End Road Carpark - NG42DW
Access: Colwick Country Park, Mile End Road, Colwick, Nottingham.
Public access to the Park is via a network of pedestrian walkways. The park has three main entrance points (Racecourse Road, Mile End Road and Daleside Road near the Starting Gate public house) each with public parking. A barrier charge is in place should you wish to pass the fishing lodge at River Road. The site is also serviced by public transport links The whole area is located off the A612 Nottingham to Southwell road and located between Sneinton and Colwick village. Anyone visiting from outside Nottingham should follow the brown Nottingham Racecourse road signs and that will get you to the general area.
History: Colwick Country Park, the house and parkland can be traced back to before 1362 where the ownership of the hall had passed through a number of families including the infamous Byrons and Musters. The current house dates from the late 18th century although there have been various modifications to the building and the design over the years.
The Country Park opened in 1978, with the former gravel workings landscaped and planted to form a recreational facility for the city.
Habitat: The park is dominated by two lakes with the River Tent on the southern boundary. Within the park itself are a number of different habitats with small areas of woodland, a smaller narrow lake and area of marshland.
Once on the site there is unlimited access to all areas except the locked Marina and, on racedays only, the Nottingham Racecourse. As with any site, visitors are asked to stick to obvious footpaths and not trample vegetation.
Within the park are two lakes, Colwick Lake, a 63 acre water mainly used for trout fishing, and West Lake, a smaller 24 acre coarse fishing lake. Due to disturbance on both lakes the birding can be frustrating. The best area to concentrate on is Colwick Lake, which is easily viewed from footpaths or the park road. The large area of water attract good numbers of wildfowl including counts of 100 or more Goldneye in the winter. On the 17th March 1994 a drake Bufflehead was found on Colwick Lake and remained faithful to the area before departing on the 26th March.
Another area to check is the bushes between the Marina and Sluice Gates as these often hold migrants in spring and autumn.
The Racecourse and Pool is of "Site of Special Scientific Interest" quality primarily for its dragonfly species. Access is through the gate opposite Colwick Hall and is unrestricted except as previously stated. The pool, which is the main point of interest, is located in front of the main stand. This site has recorded 16 species of dragonfly with 14 species breeding there. Visits in-season should produce several Emperor Dragonflies, Black-tailed Skimmers and Four-spotted Chasers. Close scrutiny will also reveal Emerald Damselfly and Ruddy Darter. The vegetation around the pool is kept as cover for emerging dragonflies, it also holds commoner butterflies with Essex Skipper a possibility.
The pool is not a birding hotspot but does get Stonechat in winter and Whinchat on passage. The sports fields also get Wheatear annually and have turned up Glaucous and Mediterranean Gull in recent years. To the north of the Racecourse is the old Colwick Road, this area holds butterflies and commoner summer migrants such as Whitethroat and Garden Warbler. The east end of the Racecourse borders the Nature Reserve and can produce good butterfly watching including, in 1999, including eye-level views of White-letter Hairstreaks.
Birds: The park list stands at around 220 species, and annually totals 140+ species. Colwick had a reputation for turning up rare birds in the 1990's, it also has 64 breeding species. In the 1990s Colwick produced county firsts in the shape of Bufflehead, Yellow-browed Warbler and Long-tailed Skua.
Other notable birds seen during the 1990s are White-winged Black and Caspian Tern, Shorelark, White Stork, Common Crane, Long-tailed Duck, Honey Buzzard, Mediterranean Gull, Manx Shearwater, Fulmar, Grey Phalarope, Great Northern and Red-throated Diver, Bean Goose, Eider, Great and Arctic Skua, Snow and Lapland Bunting, Ring Ouzel, Quail, Little Egret, Black Redstart and occasional rare grebes. Prior to the I990s the site recorded Pomarine Skua, Little Auk, Red-footed Falcon, Night and Purple Heron, Spotted Crake, Purple Sandpiper and Black Stork.
Old breeding records for the site include both Red-backed Shrike and Cirl Bunting.
Winter - can often be good with fair numbers of wintering wildfowl and occasionally high concentrations of Goldeneye (156 is the record). Harsh weather produces rarities, especially Grebes, Divers and Gulls with Med Gull annual.
Spring - migration can produce large parties of passage Terns with Black and Arctic Tern often visible after periods of easterly winds. Little Gull are also often visible if the conditions are favable.
Summer - is generally the quiet time with the breeding Common Terns usually the focus, with up to 85 birds roosting on the boats each evening during July and August.
Autumn - begins at the end of July when a gull roost can develop, producing lots of Western Yellow-legged Gulls and occasional Meds. Warblers also congregate in the Migrant Trap and are well worth checking. In October/November visible migration comes once again to the fore with, in some years, heavy lark, pipit and thrush passage. These flocks sometimes hold the odd rarity for the sharper eyes and ears.
Other Wildlife: Colwick has recorded 27 species of butterfly, the rarest being White Admiral which was captured on video, followed by Clouded Yellow which only occurred in 1996. Recent colonists have been Essex Skipper and Purple Hairstreak which are still scarce, Brown Argus occurred for the first time in 1999.
Seventeen species of Dragonfly have occurred although the Common Hawker as only been noted twice including one in 1999. Important populations of Red-eyed Damselfly and Ruddy Darter are present while Large Red Damselfly seems to be getting rarer.
Finally Colwick is easy to visit with a broad range of wildlife interest be it birds, butterflies, moths, flora, dragonflies or whatever. Information boards are positioned outside the Fishing Lodge and there is a logbook kept in there for you to check what has been seen or to log you own sightings. The site is wardened during daylight hours and there is a regular programme of bird and wildlife walks along with public moth trapping sessions.