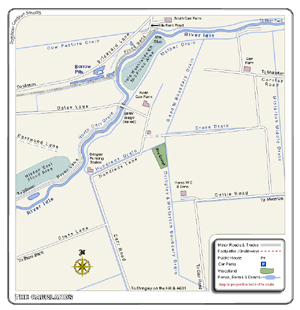 Click on Map for a full size

version
---
Sat-Nav postcode: Carr Road - DN10 4SN
Access: To the Carrlands have always been at the discretion of the landowners and large scale twitches have only occured on a couple of occasions. The main reason for a Notts birder to visit the area has traditionally been to see Dotterel, a species which has occurred in spring trips for many years, predictably in April and May. The whole site can be a daunting task to cover and can, at times, seem utterly desolate, however, with persistance it is possible to enjoy some of the species which generally only regularly occur in this isolated corner of Nottinghamshire.
As previously stated, much/most of the area is private although some public footpaths do exist. The Carrlands are extensively farmed and the road system in place is privately maintained, a fact any motorised birder needs to bear in mind when farm vehicle access is an issue. Technically you may be trespassing when using the access roads however, local landowners do not actively (at present) enforce their rights of restriction and any responsible visitor should not have problems. Most birders visits will be centred on the area around the Bailey Bridge which crosses the Idle. To reach this area, take Wood Lane from Gringley on the Hill. This soon becomes Carr Rd and goes to the Gringley Pumping Station. A right turn here turns into Hundreds Lane which then crosses the Idle. Another access point is from Misson Village taking Top Road which then becomes Dale Lane. It is possible to walk the flood bank on the north side of the Idle from Misson village. This passes through typical river bank scrub and a small wet area. Both of these roads are private but with tolerated access. It is no longer possible to cross the Bailey Bridge as it is gated and (usually) locked. When the Dotterel are present even more care than normal needs to be taken. Because of the nature of the roads, parking is very limited, if in doubt, walk or cycle. There are a number of public footpaths around the area and these are ideal for exploring on foot or by bicycle, an option worth considering if you wish to explore the whole site. Be prepared to spend several hours in the field to do a thorough job.
Habitat: The whole area is intensively farmed lowland Carr which is another term for fenland as the whole area is less than three metres above sea level. The area is criss-crossed with drainage ditches and partially bisected by the Idle to the north. Near the Bailey Bridge is an area of borrow pits which are rich in dragonfly life as are many ditches. To the north-west lies the military of Defence "Rocket Range", a fair sized woodland is part of this area. Some fields are set asides and these often hold the majority of the smaller birds and therefore attract raptors. A conifer wood on the south side of the Idle has a large rookery.
Misson East: The fields East of Misson generally flood to some extent every winter. At this time, it can be good for Whooper and Bewick's Swans as well as other species of Wildfowl. The area can be accessed from River lane in Misson, then walking East along the river for about half a mile or viewed from Gringley Carr pumping station across the river. There are a few areas of sacrificial crop around here which attracts large flocks of Finches and Buntings in winter including the occasional Brambling and Corn Bunting. In summer, Quail are sometimes heard singing from the fields around here. In June 2002, a female Red-footed Falcon spent several days around this area. SK708949
Idle Stop: This is an area of marshland with adjacent Willow and Hawthorn scrub and it is best accessed from the south end of Idle Bank road which is just South West of Westwoodside in North Lincolnshire. Winter is often the best time to visit, with regular sightings of Hen Harrier, Marsh Harrier, Merlin and Short-eared owl. Stonechats can often be seen wintering on the marshland. The nearby scrub still contains a small population of Willow Tit. SK718962
Birds: As previously stated, most birders know the site for its Dotterel. These birds tend to favour pea fields, which are flat with some growth. The location of the pea fields changes annually with several often looking suitable, but usually only one or two utiliesd by the Dotterel. Most fields are viewable from the Carr Road two thirds of the way from Gringley to the Bailey Bridge. Others are located by turning left at SK715943 onto Cross Lane. Birds are usually present from the last week of April into May but are by no means guaranteed. They are generally not shy but should not be approached. Entry into the fields is not allowed therefore only view from the roadside and be sure to tell anyone not behaving to do so. The other specialities of the area are the wintering wildfowl and raptors. From late November Bewick's and Whooper Swans can be present. These birds can be very mobile and care should be taken when observing them. The best way of locating them is to look from Gringley Village and choose your route accordingly. Other wildfowl tend to gather on the Idle Washlands, a Notts Wildlife Trust reserve viewable from the bank, this area held American Wigeon in 1998 and frequently has all of the commoner wintering wildfowl. Viewing the raptors is less ordered, with the road to the Bailey Bridge the best daylight option and the Rocket Range area as good as any at dusk. A good vantage point from which to scan for Hen Harriers is the end of the road opposite South Carr Farm, with birds often quartering the fields adjacent. Besides Hen Harrier both Peregrine and Merlin are frequent, Short-eared Owl might also be expected. Migrants use this area extensively with Wheatear common in spring. Osprey, Marsh Harrier Red Kite and occasionally other rarer raptors such as Montagu's Harrier have been recorded, in fact, this area is probably your best chance of seeing the latter species in Notts with most recent records from here.
In 2002 a Blyth's Pipit was found on the 28th December. With national rarity status, access was always going to be a major headache, but as it was the Christmas holidays the landowner kindly allowed unlimited access to his field throughout the Christmas holiday. Permission was then rescinded once the farm returned to work. Older rarities include Nottinghamshire's first American Golden Plover occurred here in 1984 and the first county Richard's pipit was found in 1971. Common Crane has been present on a few occasions and the county's second ever Little Egret took up residence in the area in 1981. The first county record of both Notts's Glossy Ibis met their end here in the last century and Corncrakes were resident briefly in 1975. More recent records of Notts rarities have included Golden Oriole, Lapland Bunting, Kentish Plover and Red-footed Falcon.
Other wildlife: Most of the common species of butterfly occur, aided in recent years by increased set aside and the resulting breeding areas. In the ditches and pools dragonflies abound and this is one of the best sites in Notts for the dragonfly watcher. Black Darters are abundant along with Large Red Damselfly. Common Hawkers occur as do Variable Damselflies although these are very scarce Probably the rarest dragonfly found is the Hairy Hawker which breeds on a section of the Mother Drain and can stray into the area. And finally It cannot be stressed enough that a visit to this section of the Idle Valley requires both common sense and courtesy. Access is not official and, if you are asked to leave then you must do so. Local landowners are very tolerant and should not object to your presence so long as you obey the rules. Please bear this in mind when visiting.
Mark Dennis & Steve Furber May 2016.