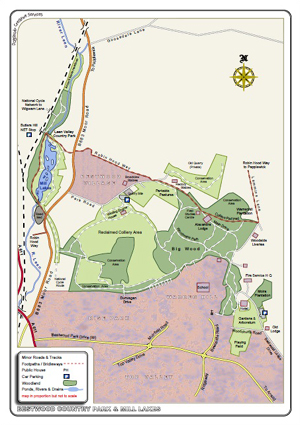 Click on Map for a full size

version
---
Sat-Nav postcode: Winding engine house car park - NG6 8UE. Bestwood Lodge car park - NG5 8NE.
Access: Bestwood Country Park is at the northern border of the city of Nottingham with Arnold to the east and Hucknall to the west.
Train: the nearest stations are Bulwell (2 miles) and Hucknall (3 miles).
Tram: Butlers Hill tram stop - NG15 7PS.
Bus: Trent-Barton 141, Nottingham – Mansfield and Doyles Coaches 228, Bulwell – Hucknall.
Cycle: the park is on route 6 of the National Cycle Network.
History: In former times the site was part of Sherwood Forest, then became part of the estate of the Duke of St. Alban, the first illegitimate son of King Charles II and Nell Gwin. Charles gave him the land and made him a Duke. It became a park in the mid 1980s, the lake (Mill Lake) was made around 1979-1980, before that it had been a reed marsh through which the river Leen flowed, with a rubbish tip at one side. The reed marsh and adjacent area at that time had Grasshopper Warbler, Reed Warbler, Sedge Warbler, Common Whitethroat and lots of Common Snipe in the winter. Today, only the Reed Warblers are left.
Habitat: Bestwood Country Park comprises c600 acres in three distinct areas.
Woodland: 250 acres - an area of mixed secondary woodland on an ancient woodland site. A management regime is in place to clear fell some areas with the intention to create woodland dells.
Open grasslands: 200 acres - an area of grassland with scrub edges and an area of marshy scrub on top of the old pit.
Mill Lakes comprises 150 acres - an area of water through which the River Leen runs which also includes a small reed bed. To the north of the lake there is an ancient water meadow to which there is strictly no access due to the presence of sensitive botanical species. The meadow can however be viewed from the boundary and, with care, from the railway embankment.
Birds: to be seen on the lake include Grey Heron, Mute Swan, Greylag Goose and Canada Goose, Mallard, Tufted Duck, Great Crested Grebe, Little Grebe, Moorhen and Coot. In winter these are supplemented by Wigeon, Teal, Gadwall, Shoveler and Common Pochard. Other wildfowl can turn up from time to time, including Goldeneye, Goosander, Shelduck, Whooper Swan, Mandarin, Red-crested Pochard.
In the area around the lake there are a few Reed Bunting and Reed Warbler. Until fairly recently Willow Tit bred here, but these have now been lost. In winter Water Rail, Siskin and Lesser Redpoll can be seen, although the latter are becoming scarce. Perhaps the best record from this area was a singing Marsh Warbler on 21st June, 2004.
The main wooded area, known as Big Wood is mixed woodland with native tree and non-native trees. There are three steep sided valleys running through it – these used to a large open area of heathland with Tree Pipit, but are now overgrown with Silver Birch. In Big Wood now, there are just the commoner woodland birds. In earlier years they held Woodcock (now a winter visitor), as well as Lesser Spotted Woodpecker, Wood Warbler, Spotted Flycatcher, Common Redstart, Hawfinch and Turtle Dove. Also species, which have shown various degrees of decline within the county.
Also in the park is the old Bestwood Pit Tip. This is mostly grassland with a tree plantation on part of the top. The side of the tip is grazing land with cattle. Birdlife in this area includes Sky Lark, Meadow Pipit, although these have become less common than formerly. In the scrubby areas one can find Blackbird and Robin etc.
To the north of Big Wood is the old sand quarry, partly filled in with rubbish, which was capped and now covered with vegetation. In the sand quarry before it became too overgrown with Birch trees, there used to be Wood Lark, but alas these have gone.
On nearby farmland there are still a few pairs of Lapwing and also both Grey and Red-legged Partridge and in winter one can find Golden Plover. Other species in the farmland area include Yellowhammers, the odd pair of Yellow Wagtail and Tree Sparrow. Common Buzzards are now to be seen most days.

Spring - Typical migrants include Wheatear, Whinchat and Common Redstart. Hirundines also pass through in some numbers often feeding low over the lakes. Other migrants might include Little Ringed Plover and Cuckoo. Terns occasionally appear including Common, Arctic and Black Tern.
Autumn - Return passage can be varied with Hobbies regularly predating the martins and swallows.
Winter - In the woods the Nuthatches and Woodpeckers are easier to see and winter thrushes arrive in numbers. Up to ten species of duck can be present along with Little and Great Crested Grebe on Mill Lakes with Brambling and Merlin also possible.
Several county and one national raritie have been recorded in the area with Scop's Owl added to the county list in June 1973. In the early part of 1996 up to three Arctic Redpolls were found amongst the wintering Lesser Redpoll flock. Mill Lakes has produced a good selection of county rarities that includes Black-necked Grebe, Leach's Petrel, Gannet, Marsh and Hen Harrier, Arctic Skua, Mediterranean Gull, Waxwing, Black Redstart, Marsh Warbler, Firecrest and Serin (the county's only accepted record).
Other wildlife: A good selection of commoner butterflies and dragonflies are to be found on the site and most of the species associated with woodland/grassland type habitats are to be found. Some areas are botanically rich and, as pointed out earlier, there is no access to the ancient meadow.
Norman Hayes April 2016.