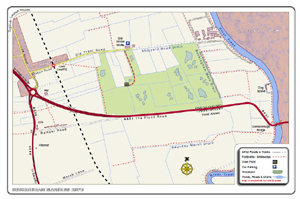 Click on Map for a full size

version
---
Sat-Nav postcode: Old Willow Works Carpark - DN10 4PY
Access: From Gainsborough town centre, cross the bridge over the River Trent and follow the A631 to Beckingham village. At the roundabout at the junction of the A631 and A620, take the Low Street exit, signposted Beckingham and Trent Wharfage. Then take the first major right-hand turn (Station Street). This becomes Old Trent Road. Parking is available at the Old Willow Works on the left-hand side.
Facilities: The car park (not RSPB-managed) is open from 09:00 to 17:00 and has 15 spaces and 3 Blue Badge spaces, at Old Willow Works directly across the road from reserve entrance.
Toilet facilities avilable in the Old Willow Works car park.
Group bookings accepted and guided walks available.
The Nature trail is 0.75 mile (1 km), Uneven grass – no hard surfaces. Four information points with bench seating. Narrow kissing gate on entry and leads to a raised viewing screen. There are also four fenced compounds with interpretation within them along the way. These provide a refuge from the cattle too.
Habitat: Beckingham Marshes is a major habitat creation project on the River Trent floodplain. The RSPB working with a local grazier to re-establish a wet grazing marsh habitat lost after World War II. It'll provide ideal conditions for lots of wetland wildlife – particularly breeding wading birds, such as lapwings and curlews - but also water voles, dragonflies and damselflies, amphibians and a variety of aquatic plant life.
Birds: Spring - Lapwings and Curlew perform their breeding displays over the meadows as the air is filled with their evocative mating calls. Look out for the first returning spring migrants, arriving from their wintering grounds in Africa. Wheatear are usually first, quickly followed by Yellow Wagtail, House Martin and Swallow. Skylark song can be heard from every corner of the reserve.
Summer - Adult Tree Sparrows can be seen in the hedgerows, busily feeding their young. Look closely around the edge of the pools and if you're lucky, you might see some of the small, fluffy Lapwing chicks feeding in the muddy margins. As the days lengthen, look up to the sky and watch Meadow Pipit performing their 'parachuting' display flight. Dragonflies and damselflies will now be emerging from the ditches that are filled with aquatic plants such as celery-leaved buttercups, water plantains and amphibious bistorts.
Autumn - Migrating waders such as Greenshank, Green Sandpiper and Black-tailed Godwit could be found on the scrapes - or maybe something scarcer? Breeding Yellow Wagtail are joined by passage birds and 40 or more can sometimes be seen, following the herd of cattle around site. Swallows and House Martin feed in large numbers on the insects that are emerging en-masse from the scrapes and pools. Duck numbers start to build up as winter approaches.
Winter - Duck numbers reach a peak as harsh weather on the continent forces them to look for relatively milder climates. Species include Wigeon, Teal, Gadwall and Shoveler. Look out for Bewick's and Whooper Swan amongst the Mute Swans, or possibly Pink-footed Geese dropping in. Check out the hedgerows for flocks of Redwing and Fieldfare and mixed flocks of Finches and Buntings. If you're lucky, you may see a Short-eared Owl hunting low over the meadows on a sunny winter's afternoon.