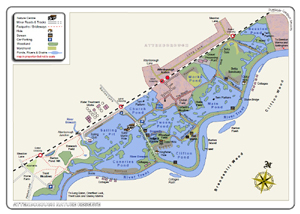 Click on Map for a full size

version
---
Sat-Nav postcode: Nature Reserve Carpark - NG9 6DY
Access: Attenborough Nature Reserve, Barton Lane, Beeston, Nottingham.
The Attenborough Nature Reserve is 5 miles south west of Nottingham. It is situated between Beeston and Long Eaton off the A6005. From junction 25 of the M1 take the A52 signposted to Nottingham. After approximately 1.5 miles turn right at the roundabout onto the B6003 signposted to Toton. After a further 1.2 miles turn left at the second set of traffic lights onto the A6005. After 0.5 miles turn right at the traffic lights through Chilwell Retail Park onto Barton Lane and follow the road over the railway crossing. Parking is available on the right just after the crossing, or 500 yards further on in the main car park at the Visitors Centre (SK 516339), where there is a voluntary parking charge.
There is limited parking available at the Meadow Lane entrance (SK 525354) and access to the reserve is over a railway foot crossing. The old car park in the village, now known as Corbett's Meadow, is a Notts Anglers car park and only accessible by key. The reserve is 500m from Attenborough railway station. Most of the footpaths around the reserve have been resurfaced and are suitable for the disabled.
Facilities: Most of the Attenborough gravel pit complex lies in Nottinghamshire and is a Nottinghamshire Wildlife Trust reserve. The Visitor Centre, which was opened in the spring of 2005 by Sir David Attenborough, provides food and drink, toilets, meeting rooms, education facilities, interactive displays and a Nottinghamshire Wildlife shop. There are four hides. The Delta hide looks out over the Delta reed bed and woods and is accessible via a key code obtained from the Visitor Centre. The Tower hide or Corbett's hide is situated along the Wheatear Field path and gives superb views over the Clifton Pit reed beds, lake and wooded hillsides south of the river Trent. The Kingfisher hide is found at the bottom end of Barton Lane on the left and also looks out over the Clifton Pit. The fourth is a state of the art Sand Martin hide that is accessed through the Visitor Centre and wildlife garden. They are open from 8am to 4pm.
There are several viewing screens around the reserve with two along Barton Lane looking onto Tween Pond, one along the river path looking onto the Clifton Pit, two on Wet Marsh path overlooking Wet Marsh and a third on the river path looking onto the same area. Further along the river path a double viewing screen looks out onto Main Pond, one on the Bund overlooking the south west corner of the Delta and one on North path facing the northern end of the Delta.There are several seats and benches at the western end of the reserve  with bird feeding tables and information boards at various locations.
History: Attenborough Nature Reserve is one of the most important nature conservation sites in the East Midlands. It covers 226ha and provides a refuge for a wide range of plants, birds and other wildlife. The Nature Reserve is designated a Site of Special Scientific Interest and is managed by the Nottinghamshire Wildlife Trust in partnership with the owners Cemex and supported by Broxtowe Borough Council.
The reserve was established in 1966 and opened by Sir David Attenborough. The site was formerly a series of gravel pits excavated between 1929 and 1967. Since 1970 all of the gravel workings have been in Derbyshire and are still being worked today, but are due to finish within a year or two. The gravel is transported by barge from Derbyshire to the Works Pit gravel works in Nottinghamshire.
This lead to polluted water from the river Erewash entering the reserve and degrading the water quality. To combat this, an embankment was built in Coneries Pit to divert the water from the river Erewash into the river Trent via a new sluice gate.
Habitat: The reserve consists of 9 gravel pits, each at varying stages of maturity. The most established areas, such as the Delta, have developed mature willow and alder woodland, with the fringes offering dense hawthorn scrub and thick aquatic vegetation. Areas of the woodland have been thinned out to allow light to penetrate and plants to flourish. Both the Delta and Wet Marsh have good areas of phragmites which is expanding rapidly.
The more recently worked pits offer more open habitat with vegetated islands and lower lying spits. The river Trent running from south-west to north-east is an important factor in attracting birds to the reserve, as are the fields to the south of the Trent, which offer rolling farmland with mature hedgerows, forested hillsides and a river flash.
A lot of habitat improvement has taken place over the years by the Nottinghamshire Wildlife Trust with the creation of several new reed beds, most notably in the Clifton Pit and Coneries, and these have been rapidly colonised by a variety of birds. The Wheatear Field was levelled and the spoil used to create a shallow lagoon in the Tween Pond, and the foundation for the Clifton Pit reed bed, and one half was developed into a wet grassland ridge and furrow habitat. An island on the Clifton pit was also levelled to provide nesting habitat for terns and gulls.
Compensation from the Flood Alleviation Scheme, which destroyed a large corridor of habitat, allowed for the creation of further reed beds along the northern banks of the Sailing Pit and Church Pit and the creation of shallows along the north bank of Beeston Pond and Church Pit corner. The Glebe Field is the most species rich area of grassland on the reserve.
Birds: have been recorded since 1944 and the reserve boasts a list of 253 species. It has attracted national rarities such as Little Crake, 1975, 1976, 1983 and Sora 2004, and a long list of county rarities including Squacco Heron 1998, 2011, Purple Heron 2003, Cattle Egret 2008, Night Heron 2015, Ring-billed Gull 2015, Green-winged Teal 1996, 2014, Velvet Scoter 1976, Purple Sandpiper 1976, Pectoral Sandpiper 2003, Grey Phalarope 1997, Buff-breasted Sandpiper 2009, White-winged Black Tern 2013, Savi's Warbler 1996, 1997, Penduline Tit 1994, 2008, and Red-rumped Swallow 1995, 2013, to name but a few.
Winter: During the winter months the main interest focusses on wildfowl and other water birds. Typical birds include Great-crested Grebe, Little Grebe, Mallard, Tufted Duck, Gadwall, Pochard, Goldeneye, Wigeon, Shoveler, Teal, Goosander and small numbers of Shelduck. Pintail are recorded  most years whilst Scaup, Smew and Red-breasted Merganser are irregular winter visitors. Black-necked, Red-necked and Slavonian Grebes have all been recorded. The most productive areas for wildfowl are the Clifton Pit, Coneries, Church Pit and Main pond.
Cormorant numbers have decreased since the late nineties when up to 459 birds were roosting on Coneries. A huge feral population of Greylag and Canada Geese are present throughout the year, but in winter they can attract some of the rarer wild geese and are always worth scanning though. Most winters see records of Whooper Swans, but Bewick's are much rarer.
Water Rail are present in good numbers and can be heard or seen from any of the reed beds. 1-2 Bitterns are present every year, with 3-4 some winters and 7 in the winter of 2010/2011. Most sightings are from the Clifton Pit and Delta reed beds. Snipe numbers can reach 40-50 birds and there is usually a Jack Snipe to be found.
Black-headed Gulls are numerous, and there are good numbers of Common Gull. The larger gulls are regular but in smaller numbers. Mediterranean Gull occurs annually as does a single Yellow-legged Gull. Lapwings sometimes number over 1000 and occasionally they are accompanied by up to 200 Golden Plover.
There is a huge Corvid and Wood Pigeon roost on the Delta and Starling murmurations average 2-3000 birds. The alders around the Delta, along the Bund and river path attract Siskin and Redpoll in small groups. Mixed tit flocks are ever present in these areas, but Willow and Marsh Tits have all but disappeared. Winter thrushes and finches are usually well represented. Green and Great-spotted Woodpeckers are regular, but Lesser-spotted are much more difficult, with the area around the Delta gate the best place to look. Stonechats are sometimes found in the Wheatear Field. Sparrowhawks are resident, but are most obvious in late winter displaying above the Delta. Merlin are present over the river most winters and occasionally visit the reserve.
Spring: usually sees a reasonable passage of waders. The more regular are Dunlin, Greenshank, Redshank, Green Sandpiper, Common Sandpiper, Ruff, Black-tailed Godwit, Curlew, Ringed Plover, Little Ringed Plover and Oystercatcher, with the latter two breeding on the reserve. Irregular to rare passage migrants include Whimbrel, Bar-tailed Godwit, Knot, Turnstone, Sanderling, Grey Plover, Little Stint, Curlew Sandpiper, Wood Sandpiper, Spotted Redshank and Avocet. Spring has also produced records of Temminck's Stint, Black-winged Stilt and several records of Common Crane. If water levels are low the Clifton Pit is the best place for waders, with Tween Pond and Church Pit corner also worth checking. Cottages Flash across the river downstream from Barton Lane is another good site.
Northern Wheatear, Yellow Wagtail, White Wagtail, Whinchat and Meadow Pipit all occur in small numbers, but the best sites are off the reserve across the river and into Derbyshire on the Erewash Field. Osprey, Marsh Harrier and Red Kite are almost annual and late spring sees the arrival of Hobby.
Common Terns arrive in mid April and breed on three artificial rafts and sometimes on gravel spits if the water levels are low. Black and Arctic Terns occur annually as do Little Gulls, with Kittiwake, Sandwich Tern, Little Tern and Black-necked Grebes less frequent. Garganey are also annual. 
Summer: During the summer months the reserve holds a good array of resident and summer migrant breeding species. Great-crested Grebe, Little Grebe, Tufted Duck, Mute Swan, Common Tern, Little Ringed Plover, Oystercatcher,
Kingfisher, Sparrowhawk, Kestrel, Common Buzzard, Cuckoo, Tawny Owl, Great-spotted Woodpecker, Green Woodpecker, Long-tailed, Blue and Great Tit, Bullfinch and Reed Bunting. Blackcap, Chiffchaff, Willow Warbler, Sedge Warbler, Reed Warbler, Whitethroat, Lesser Whitethroat, Grasshopper Warbler and Garden Warbler all breed. The first breeding record of Cetti's Warbler in Nottinghamshire occurred on the reserve in 2007. Since then they have become an established resident with 12-14 birds present.
In 2015 a booming Bittern was present from February to May with a second bird also present. On May 29th two juvenile Bitterns were seen in the Clifton pit reed bed constituting the first modern day breeding record for Nottinghamshire.
Cormorants started nesting on an island on Coneries in 2008 with 7 nests noted. By 2012 this had risen to 50 nests. In 2007 the heronry in Brandshill Wood over the river was abandoned due to pressure from the increasing numbers of Common Buzzard. Grey Herons now nest on islands on Tween Pond and Main Pond.
Sand Martins have taken to the new artificial nesting bank which also incorporates a hide. In 2015, 178 chicks fledged. These birds are joined in the skies by good numbers of House Martins, Swallows and Swifts. 
Autumn: migration starts early and returning waders start to appear from mid July. The first to occur are normally Common Sandpiper, Green Sandpiper, Dunlin and Greenshank.
The autumn wader passage normally exceeds the spring with birds often lingering for several days. Favourable weather conditions often see single and small numbers of Oystercatcher, Ruff, Black-tailed Godwit, Redshank and occasionally Wood Sandpiper. During September scarcer waders such as Curlew Sandpiper, Knot, Ruff, and Little Stint have all occurred and there is a return passage of Little Gull, Arctic Tern and Black Tern. Returning passage passerines are much less prominent than in the spring, but this is compensated by large numbers of Hirundines and Swifts.
Other Wildlife: Attenborough Nature Reserve is of County importance for all its flora and fauna and has recorded 28 species of Butterflies, 515 species of Moths, 21 species of Dragonflies, 122 species of Hoverflies, 6 species of Grasshoppers and Crickets, 26 species of Mammals, 400+ species of Plants and 215 species of Fungi.
Sean Browne December 2015