Attenborough Nature Reserve Binoculars Offer.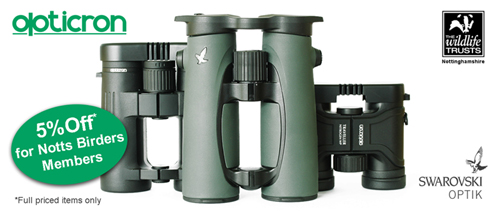 Whether you are a budding birdwatcher or an aspiring entomologist, a pair of binoculars is an essential bit of kit. When it comes to watching wildlife, the quality of the binoculars you choose to look through can really make all the difference.
There are a number of factors to consider along with questions to ask yourself when choosing your binoculars; should I get 8x or 10x? Should I choose Porro or Roof Prism? Fully Multi-Coated? ED, Extra-Low Dispersion? Rubber Armoured Coating? Close focus? Field of View?… the list goes on.
At the Attenborough Nature Centre and Idle Valley Rural Learning Centre (nr. Retford) there is a large range of binoculars to help you get the most out of your hobby, along with prices to suit most budgets.
We are happy to offer 5% discount to members of Nottinghamshire Birdwatchers (full priced items only).
By purchasing your binoculars through our Nature Centres you get to test them under real field conditions and call upon the expert advice of our staff and volunteers – most of whom are keen birdwatchers themselves. Why not attend one of our special Optics Demo Days? Don't forget that 100% of the proceeds from sales support our vital conservation work in Nottinghamshire.
Contact Attenborough Nature Centre
Tim Sexton Assistant Manager Attenborough Nature Centre
0115 972 1777 www.attenboroughnaturecentre.co.uk