Welcome to the Website of the Nottinghamshire Birdwatchers
This page contains events for the Nottinghamshire Birdwatchers as well as other events which may be of interest.

We now feature a number of walks organised by our Outdoors Events Organiser Samantha Haworth. These walks are open to all, as well as members of the Nottinghamshire Birdwatchers.

If there are any events such as slide shows, bird walks etc in Nottinghamshire, you would like to see on this page then please send details to: Rob Hoare



Nottinghamshire Birdwatchers In County Walks
Please contact Samantha at crestiesam@sky.com to book a place on any of these walks.
Goshawks at the Welbeck Raptor Watchpoint with Mike and Sam.
Saturday 4th and Sunday 5th March 2017.
From 9am until around midday. Turn up and stay for as long as you like. Booking is not essential but it would help to have a rough idea of numbers expected, so if you can drop Samantha Haworth a line if you plan to go, it would be appreciated. Bring a spare pair of eyes, a hot flask and your fingers crossed for reasonable weather and a bit of luck with the Goshawks. Be prepared for waiting around so wrap up warm! There are no toilets nearby. This is a very hit-and-miss event so the Goshawks cannot be guaranteed but we hope to have views of them displaying if luck is on our side. We may also see Buzzards, Sparrowhawks and Kestrels and there is a nearby feeding station where small birds and Mandarin Ducks can be seen which is worth stopping at on the way there or back. Should the forecast be very wet then there is a chance this event may be cancelled or rescheduled if possible nearer the time. We have arranged two days in the hope that at least one of the days will afford the chance of good weather!
Directions to Welbeck from A614 Take A616 at Ollerton roundabout At double mini-roundabout (past Budby village) go right then straight across on to B6034 (towards Worksop) At cross-roads turn left (Carburton tea rooms on your left) Follow this road until before sharp left bend. Park on verge before bend. From A60: Turn off the A60 East in Cuckney Turn onto Norton Lane Follow road through Norton After sharp right bend park on verge. OS grid reference is SK 579 721 Please ask people not to park on the grass verge where the hedge has been cut low – we need to stand there. Parking is limited so please encourage as many people as possible to car share.
Centre Parcs, Sherwood Forest - with Mike Hill
Saturday 22nd April 2017.
Join Mike for an informative Spring walk around Center Parcs for a chance to see the sites flora and fauna and see the work that goes on around the holiday village.
Birds may include warblers, finches, woodpeckers and tits.
Strictly limited to 15 people and names are required in advance, so booking is essential.
There will be a charge of £3 for non-members.
The walk start time will be 08:00 and will last approx. 3-4 hours.


Nottinghamshire Birdwatchers Indoor Events
AGM and INDOOR MEETING with Speaker and Buffet
Thursday 23rd March 2017 at 07.30pm
The University of Nottingham Social and Sports Club
Lenton Eaves, University Park, Nottingham NG7 2RD.
Our Speaker is Esther Kettel is a PhD student at Nottingham Trent, studying Peregrines. Her interesting talk is about urban Peregrines, including the birds that nest in Nottingham.
Prior to Esther's talk there will be the AGM, followed by Jenny's famous nibbles.
Anyone wishing to stand for the Committee please contact Jenny.
Directions: Enter the University by the West Gate (Beeston end). Turn left at the mini-roundabout. Take the left turn after the new Sports Centre to the car park.
For further details contact Jenny Swindells j.swindells@btinternet.com 0115 9812432.
Other Local Group Events/Walks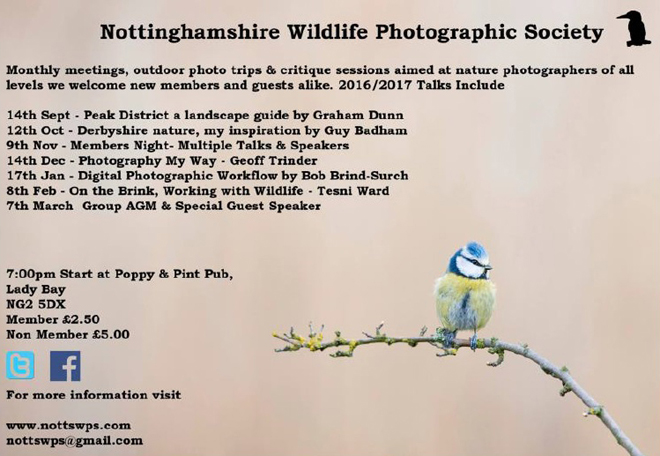 Archived Articles
Breeding Marsh Harrier and Bittern in Nottinghamshire 20
15

.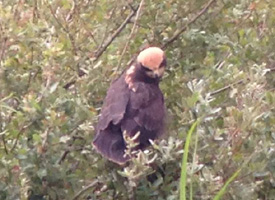 rh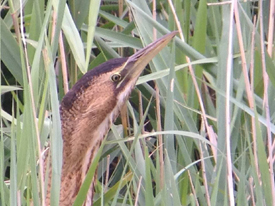 Juvenile Marsh Harrier and Juvenile Bittern. ©Simon Roberts.
---
by Carl Cornish.
---
Breeding Little Egret Success 20
12
Nottinghamshire Wildlife Trust welcomes first breeding success in the county for Little Egrets.
Read the full press release here [PDF]