Welcome to the Website of the Nottinghamshire Birdwatchers
This page contains events for the Nottinghamshire Birdwatchers as well as other events which may be of interest.

We now feature a number of walks organised by our Outdoors Events Organiser Samantha Haworth. These walks are open to all, as well as members of the Nottinghamshire Birdwatchers.

If there are any events such as slide shows, bird walks etc in Nottinghamshire, you would like to see on this page then please send details to: Rob Hoare



Nottinghamshire Birdwatchers Out of County Trips 2018
NBW TRIP TO SCILLY OCTOBER 20TH – 27TH 2018
Yes, Notts Birdwatchers will return to the Isles of Scilly in October 2018! Join us for a week on the islands to try and see rare, scarce and common migrant birds. The Isles of Scilly boast a proven track record of attracting birds from all points of the compass. The islands are designated an Area of Outstanding Natural Beauty, so while we are searching for birds, we can admire the stunning scenery! It is impossible to say what birds we might see but regular scarcities include Richard's Pipit, Wryneck, Red-breasted Flycatcher, Rose-coloured Starling, Yellow-browed Warbler, Spotted Crake, Short-toed Lark, Red-throated Pipit, Little Bunting, Common Rosefinch and many other species. Anything is possible, with regular rarities such as Blackpoll Warbler, Sora, Red-eyed Vireo, Wilson's Snipe, American Golden Plover, Grey-cheeked Thrush, Arctic, Dusky and Radde's Warblers, etc. etc. being found in recent years. Always expect the unexpected! While there, we may even find a local MEGA such as Jay, Magpie, Green Woodpecker, Yellowhammer, Bullfinch, Long-tailed Tit or Treecreeper and cause a stampede among resident birders: Scilly is a weird place!
So what do you need to know? We will be staying at Wingletang Guesthouse in Hugh Town, St. Mary's, where we will be well looked after by Jacquie and Dave Ramsden. The cost includes all accommodation on a B&B basis with 3 nights' evening meals - with single, twin and double rooms available - and an experienced guide. Not included are 4 evening meals (several pubs within easy walking distance of the digs), travel to the Isles of Scilly (you will have to purchase your own boat or plane travel to the islands plus get from your home to Cornwall to catch your chosen transport), snacks, drinks, insurance (highly recommended: travel delays are not uncommon!), inter-island boats (about £10 a time, should we choose to go off-island from St. Mary's), taxis around St. Mary's and other incidentals.

Price: £400 (plus all extras mentioned above. Expect this week to cost a total of between £600 and £700 depending on travel choice, pub meal choice, number of boat trips to other islands etc).
General Info: You will need to be relatively fit. Transport around the islands is usually by Shanks's Pony (i.e.WALKING!). Taxis are available on St. Mary's if needed (to get to a rare bird quickly or to get to the quay to dash to another island!) but otherwise be prepared to walk about five+ miles a day!

There will almost certainly be a chance to join a Pelagic trip on the Sapphire looking for seabirds (usually about £25 a day), depending on weather and demand.

Scilly allows for easy diversions and short cuts should you wish to leave the group to explore on your own (or return to the digs for a rest!).

All tour participants MUST be members of NBW

A non-refundable deposit will be asked for around the end of January
Itinerary: The itinerary on this trip will be very fluid. People can choose to do as they wish or can join the group for the day. After attending the island's bird log the previous night, Neil will suggest an itinerary for the day, taking in the best birds. Radio contact is maintained by all birders, so bird news is disseminated virtually instantaneously. If something 'good' turns up on the islands, we can decide if and when to go for it and how to get there. Plans are quite often thrown into the air, as new birds are discovered or target species have gone.
Summary: The Isles of Scilly is a stunning location and most visitors instantly fall in love with the place and its relaxed way of life. Many good birds are found annually but cannot be guaranteed, of course. We will try for as many 'good' birds as possible, so come with a list of your own target species and we will see what we can do for you! The islands are also known for rare and scarce plants, exotic insects and a host of archaeological sites.
For more details, any questions and bookings, please e-mail Neil Glenn on n.glenn@ntlworld.com

Places have gone quickly in the past, so don't dilly-dally!

Nottinghamshire Birdwatchers In County Walks 2018
Please contact Samantha at crestiesam@sky.com to book a place on any of these walks.
There will be a £3 charge for non-members for all events.
Langford Lowfields - with Carl Cornish
Sunday 14th January 2018.
A afternoon walk starting at 13:30 in the hope of seeing Barn Owl in the afternoon. Also a good chance of seeing Bittern and Starling murmuration and roost.
Meet in the car park off Cottage Lane.
Directions are: Just north of the railway crossing on the A1133 (south of Collingham) turn west onto Cottage Lane. Entrance to the RSPB reserve is sraight on before the sharp bend.


Hawfinches at Rufford - with Samantha Haworth and Mike Hill
Saturday 27th January 2018.
Meet in the main car park from 08:00hrs. Turn up and stay for as long as you like.
We will be scanning the trees from the car park and there will be a lot of standing around, so wrap up warm. There is also the option of having a walk around to see what else is about once we have seen the Hawfinches.
Toilets and café on site. This is the same day as the Hoveringham Gull roost—why not make it a day of birding in the county?


Hoveringham Gull Watch - with John Hopper and Pete Saunders
Saturday 27th and 28th January 2018.
The Hoveringham roost offers a good opportunity to see some of our rare winter gulls such as Glaucous, Iceland, Mediterranean and Caspian Gulls. Although they can never be guaranteed, mid-January is a proven time for sightings of these species.
Experi-enced observers will be on hand from 14:30hrs to assist with locating and identifying any birds. Gull watching can be extremely cold and observers are advised to wrap up warm.
The imminent closure of Cotham Landfill make one not to be missed!


Other Local Group Events/Walks
BTO training courses local to Nottinghhamshire, Spring 2018.
Bird ID: Wetland birds and WeBS courses - with David Hodkinson
Hone your waterbird ID skills and find out why the Wetland Bird Survey could be the survey for you.
In spring 2018 David Hodkinson will be holding two one-day training courses for the BTO focussed on improving ID skills and how to take part in the Wetland Bird Survey.
These will take place at the Idle Valley Rural Learning Centre on Sat 24th February and Elm Tree Farm near Matlock on Wed 21st March.
Further details here.

Archived Articles


---

Breeding Marsh Harrier and Bittern in Nottinghamshire 20
15

.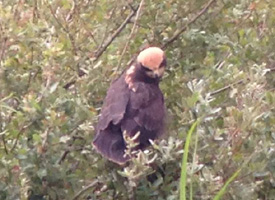 rh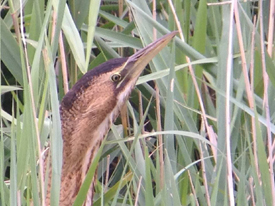 Juvenile Marsh Harrier and Juvenile Bittern. ©Simon Roberts.
---
by Carl Cornish.
---
Breeding Little Egret Success 20
12
Nottinghamshire Wildlife Trust welcomes first breeding success in the county for Little Egrets.
Read the full press release here [PDF]