Welcome to the website of the Nottinghamshire Birdwatchers.
The Nottinghamshire Birdwatchers is a registered charity with membership open to all.
The society aims to promote an interest in birds in Nottinghamshire. We are a friendly group for anybody interested in wild birds, living in, or visiting, Nottinghamshire, irrespective of their level of knowledge, experience or skill.
The society is administered by Nottinghamshire birdwatchers for Nottinghamshire birdwatchers.
The society organises local guided walks and trips to birdwatching areas further afield. Communication is by this website, Twitter and by the newsletter that is published on a monthly basis. Membership is open to everyone from experts to beginners.
We are also especially keen to attract younger members to the society, and offer 21yrs and under members the opportunity of funding towards training or attending an event to help improve skills.
In County Walks 2018
Hawfinches at Rufford Saturday 19th January
Hoveringham Gull Watch Saturday 19th & Sunday 20th January.
More information on this walk and other In County Walks HERE
Latest News & Information
The Nottinghamshire Birdwatchers Christmas Quiz.
Thursday 13th December
The annual Christmas quiz will be held at The Vale Sports and Social Club, Colwick NG4 2ED. Doors open at 7pm for a 7:30pm start.
Enter in teams of four, or come along and join others if you haven't got a team.
There will also be a raffle and mince pies.
There will be a £2 charge for members and £3 charge for non-members.
If people are planning to attend could you please email Jenny so we have an idea of numbers. Thank you.
---
Ruth Tingay: Who's Killing Britains Birds of Prey?.
Friday 7 December 2018.
Location: Idle Valley, North Road, Retford, Nottinghamshire, DN22 8RQ.
further details on the News Page
---
The Status of Birds in Nottinghamshire - Jason Reece
Nottinghamshire Birdwatchers have a limited number of this excellent book, for the special offer price of £5.00 with free postage.
The book includes an introduction to the birds of Nottinghamshire, that summarises the status of each species which has been recorded in the county up to 2007.
Special offer price of £5.00 with free postage.
To get your copy whilst stocks last please email Jenny Swindells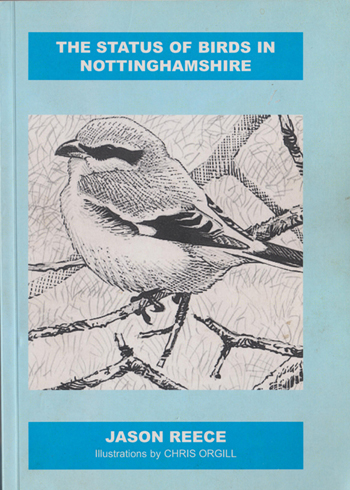 ---
Grants for Young Birders
The Nottinghamshire Birdwatchers would like to offer the opportunity of funding towards training or attending an event to help improve skills.
Examples of the type of training/event we consider as eligible for funding includes:
. Attendance on a taught training course
. A visit/stay at a bird observatory
. Volunteering to help with bird surveying or conservation work
. Attending a bird conference
The criteria for eligibility are:
. Applicant is 21 or under
. Applicant is a current member of Nottinghamshire Birdwatchers
. Details of cost will be provided
. Upon completion of the course/event, a short article will be written for publication in the - -newsletter.
Further details on how to apply can be found Here

Sales Page
Items added to the Sales page - 23rd March 2018
Further details HERE.