Welcome to the website of the Nottinghamshire Birdwatchers.
The Nottinghamshire Birdwatchers is a registered charity with membership open to all.
The society aims to promote an interest in birds in Nottinghamshire. We are a friendly group for anybody interested in wild birds, living in, or visiting, Nottinghamshire, irrespective of their level of knowledge, experience or skill.
The society is administered by Nottinghamshire birdwatchers for Nottinghamshire birdwatchers.
The society organises local guided walks and trips to birdwatching areas further afield. Communication is by this website, Twitter and by the newsletter that is published on a monthly basis. Membership is open to everyone from experts to beginners.
We are also especially keen to attract younger members to the society, and offer 21yrs and under members the opportunity of funding towards training or attending an event to help improve skills.
---
The Corvid-19 Challenge for the month of April 20

20
We are rediscovering the wonder of common species on our local exercise walks. Paradoxically these are the least reported to the County Recorder. So we have set up a competition which hopefully will encourage you to submit your local records. The person who records the most species– either in their garden or on their local patch (or both!) - will win.
Please record as much detail of numbers and behaviour as you can, as this will give valuable records for the County.
Participants must comply with the most up to date government guidance on Covid19.
Further details on how to enter the competition Here.
---
Recent site closures - 24th March
RSPB Langford Lowfields: Unfortunately we have now fully closed the RSPB Langford Lowfields reserve in response to the government Covid 19 advice. The reserve itself was still closed in the aftermath of the severe flooding we recently suffered, but from this afternoon we have also had to close the car park in line with the government advice regarding staying at home and social distancing, essentially to avoid it becoming a congregation point and to do share people from travelling. It's such a shame as the migrants were starting to drop in, but we need to follow the government advice. Joe Harris
Hoveringham Sailing Lake: The Sailing Club have closed the site to all visitors. Bird watchers should not drive/walk down the access road and walk to 'the tree', along to the club house, or around the Annexe Pit. John Hopper.
Attenborough and the Idle Vally Nature Reserve: Attenborough Nature Reserve still remains open. However, due to our concerns over the numbers of people congregating at popular destinations we are considering closing the car park off Barton Lane if visitor numbers remain high. Please use the many different access points to the reserve on foot, to ensure that social distancing rules are observed.
We have also decided to close our centre buildings at both Attenborough & Idle Valley Nature Reserves. We believe that the ability to get outdoors whilst safely distancing from others will be very important in the days and weeks ahead, so all of our publicly accessible reserves across the county remain open and free to visit. Nottinghamshire Wildlife Trust.
---
The Birds of Nottinghamshire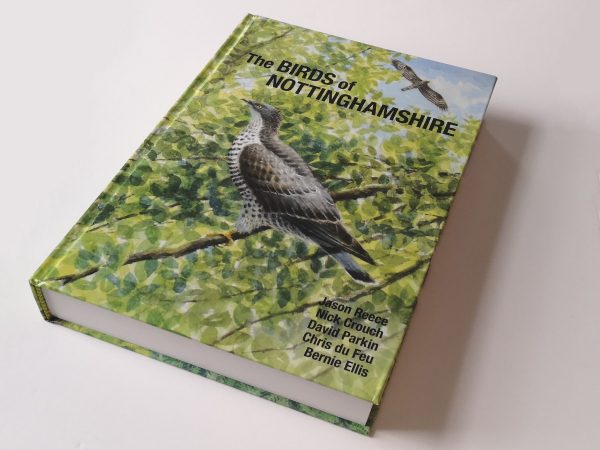 Published in November 2019, this book describes the past and present status of the 334 species that have been recorded in Nottinghamshire up to 2018. Lavishly illustrated with photographs taken within the county, and sketches from the internationally recognised artist Michael Warren, it is intended to be an authoritative reference to the birds of Nottinghamshire.
This book can now be purchased directly from the publisher Liverpool University Press, The Attenborough Nature Reserve and most major booksellers.
Attenborough Lifeline Appeal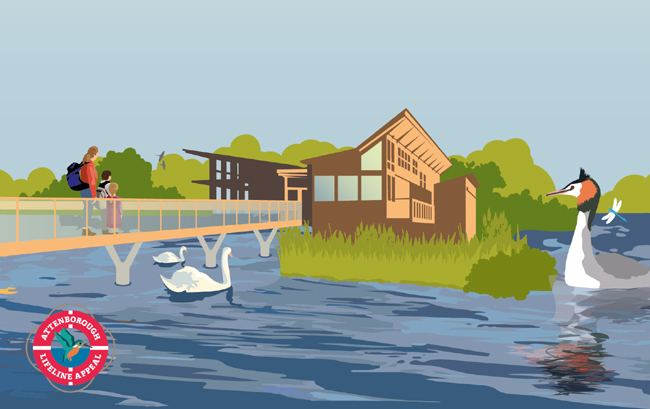 Attenborough Lifeline Appeal.
Nottinghamshire Wildlife Trust have announced a once in a lifetime opportunity to purchase Attenborough Nature Reserve and need your help to raise £1 million!
The site has been used for sand and gravel extraction since the 1920s which ended in 2016.
The Wildlife Trust need your help to ensure that they can look after this well-loved reserve and incredibly popular birdwatching destination for generations to come.
More information on how to donate HERE on the NWT website
In County Walks - 2020
All In County Walks have now been

cancelled.
Spring at Langford Lowfields
Saturday 25th April 20

20
More information on how to attend in county walks can be found HERE
Latest News & Information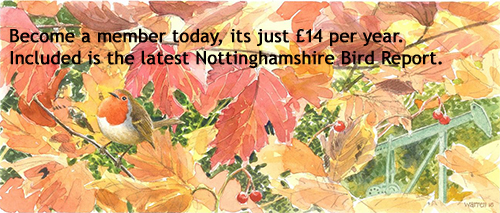 New members can send a cheque for £14 to Mrs Lynne Demaine 33 Daleside, Cotgrave, Nottingham, NG12 3QN. Cheques made payable to Nottinghamshire Birdwatchers.
COMPUTER BANKING: New members who bank online can pay their subs directly into the club's bank account, using these details:- Bank: HSBC Sort code: 40-35-18 Account: Nottinghamshire Birdwatchers Account Number: 60814911 Please put your name on the transfer!
If you do not intend to re-join, please let Lynne know, thank you!
If you are a new member, who has joined since September, you are paid up until January 2020.
---
The Status of Birds in Nottinghamshire - Jason Reece
Nottinghamshire Birdwatchers have a limited number of this excellent book, for the special offer price of £5.00 with free postage.
The book includes an introduction to the birds of Nottinghamshire, that summarises the status of each species which has been recorded in the county up to 2007.
Special offer price of £5.00 with free postage.
To get your copy whilst stocks last please email Jenny Swindells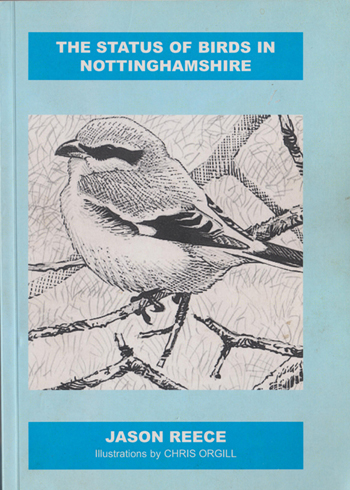 ---
The Nottinghamshire Birdwatchers would like to offer the opportunity of funding towards training or attending an event to help improve skills.
Examples of the type of training/event we consider as eligible for funding includes:
. Attendance on a taught training course
. A visit/stay at a bird observatory
. Volunteering to help with bird surveying or conservation work
. Attending a bird conference
The criteria for eligibility are:
. Applicant is 21 or under
. Applicant is a current member of Nottinghamshire Birdwatchers
. Details of cost will be provided
. Upon completion of the course/event, a short article will be written for publication in the - -newsletter.
Further details on how to apply can be found Here